Augmenting the printed experience online
Client: NZ Super Fund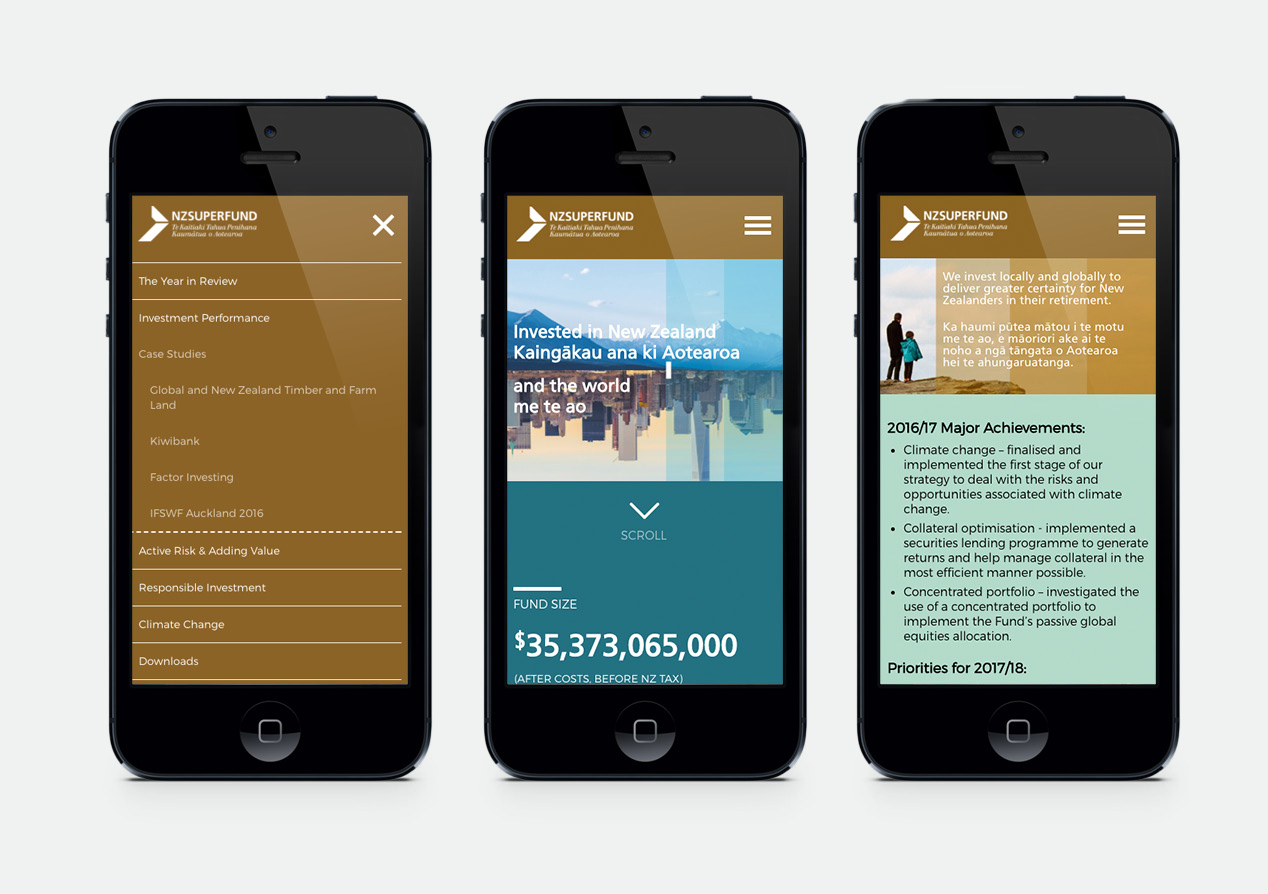 The Annual Report is a key communication tool for the New Zealand Superannuation Fund. Conveying their purpose, operation transparency and accuracy of information are critical.
The online version of the report augments the content of the print version, utilising the strengths of the medium with a series of videos including Q&As with staff members which bridge the understanding gap between sovereign wealth fund and the important lay audience.
The Brief
Annual Reporting is a key communication activity for the New Zealand Superannuation Fund. There is a need for the Fund to have a high level of transparency and as a high profile organisation they are under a lot of scrutiny, particularly in terms of accuracy of information.
Our brief for the 2017 Annual Report was to clearly communicate that the Fund invests strongly in New Zealand aa well as overseas.
The Solution
The top line messaging is clear: 'We invest locally and globally to deliver greater certainty for New Zealanders in their retirement', followed by a direct reference to the wide range of industry sectors that the Fund has invested in in New Zealand. The message is reinforced with images of both characteristically 'Kiwi' images, blended or interspersed with international city imagery.
The online report delivers high level content and results from the printed report plus additional video content. Other videos included an interview with the Chair and CEO reviewing the year and a more in-depth interview on investment performance. The medium also allows us to draw more attention to key data and storytelling through the use of animation techniques.
The Result
In a context where most online annual reports are still simply a static online delivery of the print version content, this one makes smart use of the bandwidth of the online environment to deliver content that can't be effectively delivered in print form – namely video content in the form of interviews with the chairman and senior management.
Integrating online and offline mediums created a complementary and cohesive communication programme. It continues and incrementally improves upon a legacy of award-winning reports for the NZ Super Fund. Their effectiveness has been regularly recognised. In January 2016 when the communications programme was named winner of the Annual Report category in the Asia-Pacific Excellence Awards 2015, awards that honour outstanding achievements in the fields of PR and Communications: "The Annual Report of the NZ Super Fund is a best practice example of transparent, comprehensive reporting by a sovereign wealth fund. It features clear explanations of complex financial information; consistent benchmarks; and a strong creative theme that illustrates the Fund's purpose. Case studies provide insights into investments and events, and an online microsite complements the full report." And in 2017, the 2016 report took the Gold in the 2017 international ARC Awards, as the world's best Pension Fund annual report.