Business Smarts
Client: NZ Post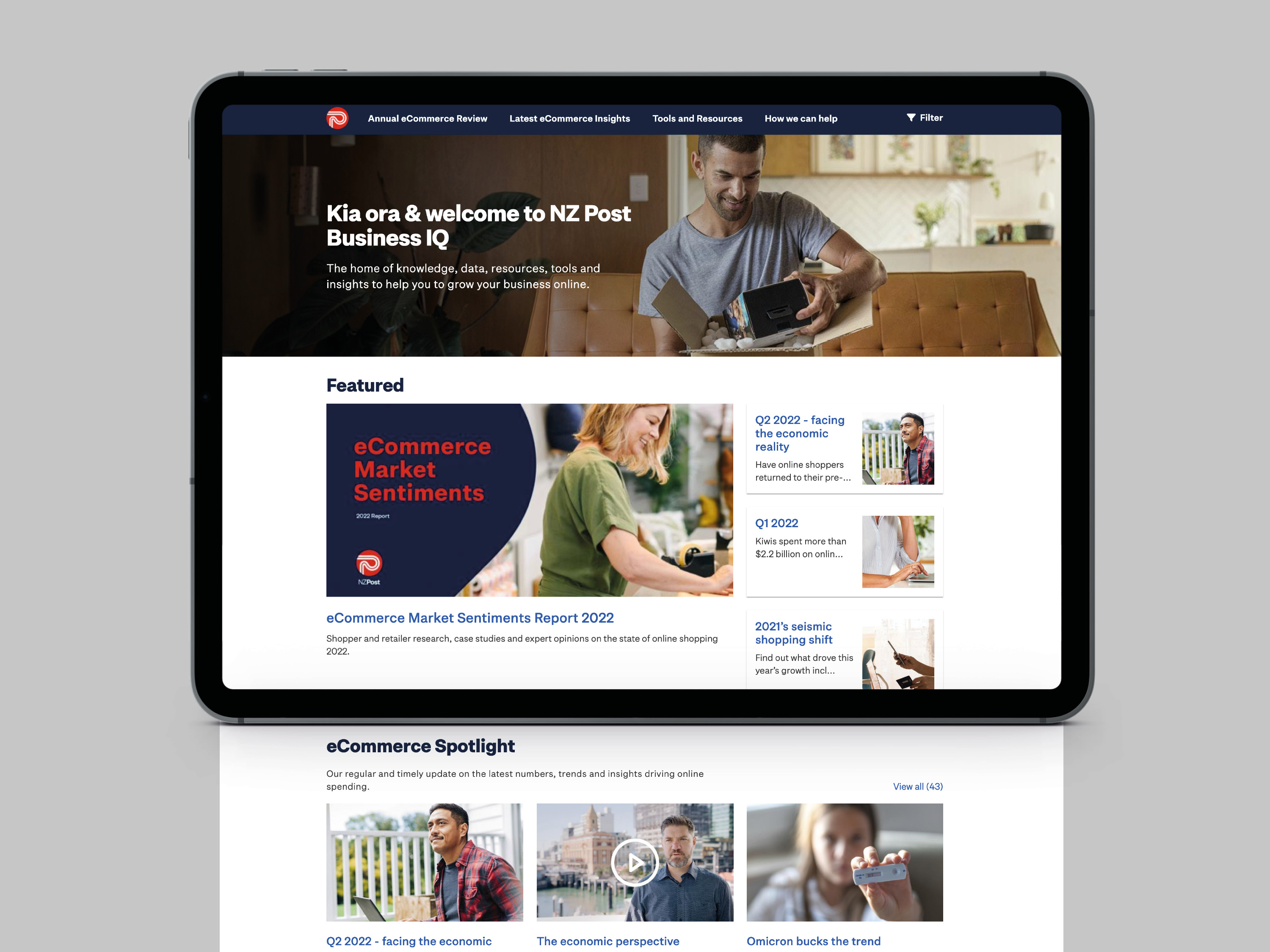 A web hub to drive thought leadership, engagement and to give online retailers what they need to grow their online business.
The Brief
For over 4 years now we've been helping NZ Post strengthen their position as thought leaders in online shopping. We've been delivering this through our work in planning, writing, designing, and producing the annual eCommerce review, The Full Download, and the regular online shopping update, eCommerce Spotlight. We also design the eDM and social media campaigns that drive audiences to engage with these two publications.
Through this work, NZ Post has produced a significant resource of knowledge and information that retailers can use to grow their online business. They've also created a significant database of online retailers who access this information on a regular basis.
The natural progression of this work was to create an online library that allowed retailers to access the information in ways that are most useful to them. This 'resource hub' also provides a vehicle for NZ Post to include more one-off, timely and relevant retailer support pieces. The goal was to also use this as a platform for extending NZ Post's marketing programme beyond the latest publication, to promote specific topics of interest to retailers.
The Solution
Introducing NZ Post BusinessIQ, the home of online shopping knowledge, data, resources, tools and insights to help retailers grow their online business.
Key to developing this site was the comprehensive database of articles, and our digital team spent considerable time mapping out the architecture of current articles while considering where it could go in the next few years as volumes grew. The database sees all articles tagged by their publication, topic and content type. This gives site visitors multiple ways (and combinations of ways) to find the information most relevant to them. Topics include sales trends, sector trends, business models, event days and much more. The content type offers options ranging from expert opinions, video case studies, through to data analysis.
An important feature of the site is the ability to use the search to create bespoke landing pages. This opens up promotional opportunities, where eDMs or social campaigns can drive audiences to see everything about a specific topic, for example Event Days. This becomes a platform for moving the engagement programme beyond the latest publication to providing regular and more tailored information specific to user needs.
Within weeks of launch we added new content, including an in-depth research piece open to existing subscribers but gated for new subscribers. This allowed NZ Post to keep growing their subscriber base.
The Results
After only a few months we are seeing regular and steady traffic to the site and NZ Post are getting great feedback from retailers and the wider eCommerce sector. The subscriber base is growing and we are seeing information from BusinessIQ referenced by industry commentators, further enhancing NZ Post's online shopping leadership position.