AR on the Waikato River
Client: Mercury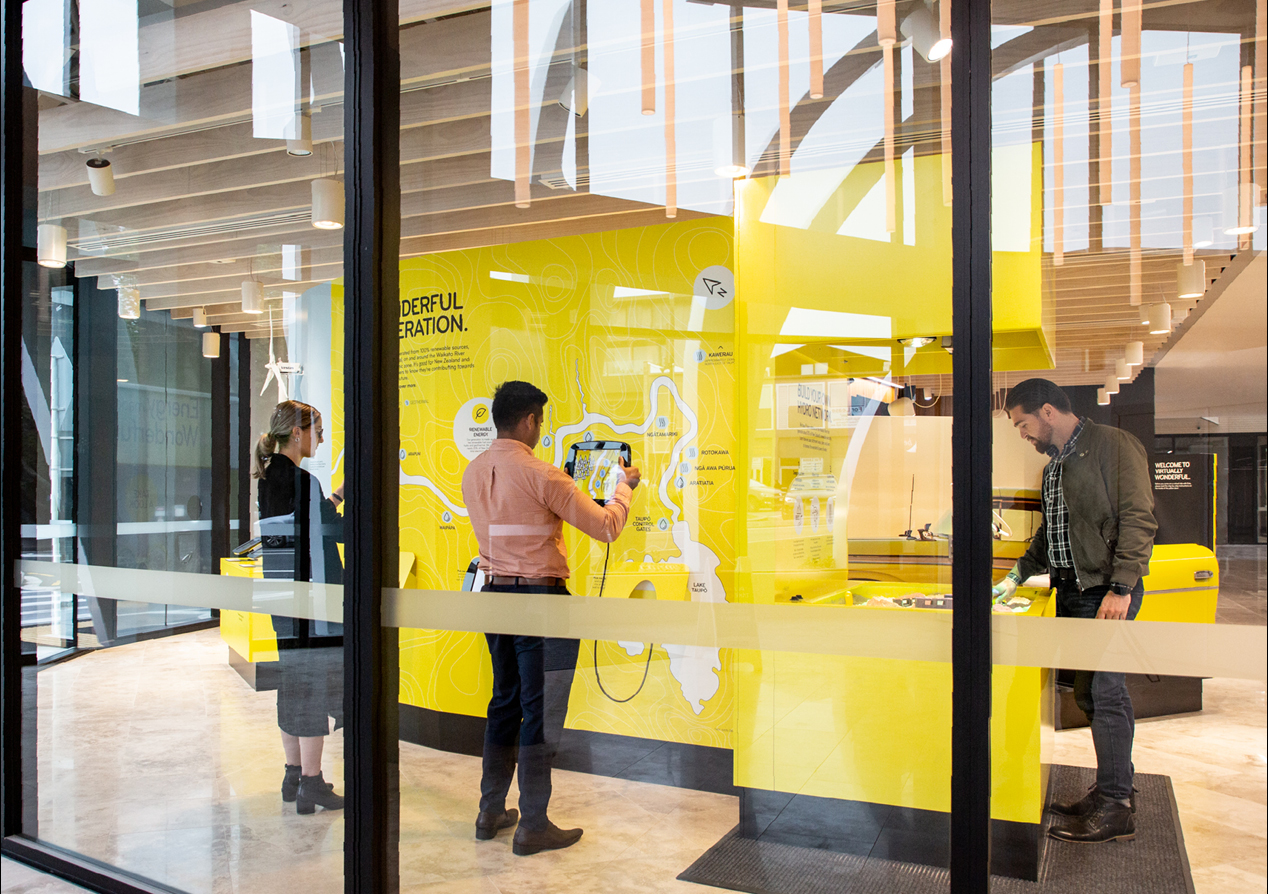 Augmented Reality (AR) brings to life Mercury's hydro-generation activities.
The Brief
As part of delivering a brand experience for their new head office in Newmarket, Mercury asked us to highlight their activities on the Waikato River in a way that was brand-aligned, engaging and educational for all building visitors.
The Solution
Mercury has told this 'energy generation' story many times so we were keen to bring it to life in a new and immersive way that inspires visitors to interact with the information. Augmented Reality (AR) was selected as the ideal medium to support both learn and play outcomes because it offers a good balance between physical display and user-selected information. It also allows multiple layers of content to be combined to create an overall user-led experience. This user journey was built on three layers.
The Physical Layer. The wall itself features a simplified large-scale map of the Waikato River with Mercury's power stations marked on it. It's presented in a simple brand aligned graphic style, supported by a contour map to give a sense of depth and to hint that other layers exists. Three iPads mounted on the wall draw audiences in – through compelling call-to-action and arresting movement – to begin exploring.
The Interactive Layer. This is what audience see when they point the iPad at the wall. The contours immediately come to life, jetting out to give the display a 3D perspective. And that's when the magic starts to happen as clouds pass, birds fly, water flows, trees sway and cyclists and rowers animate. A number of hidden surprises wait to be discovered, rewarding curious users who 'click to explore.'
The Content Layer. Users click on a power station to uncover information about it. Factual content like dates, capacity and size, together with stories of history, people and significance to the area, are delivered through words, infographics, imagery and video. Other user-activated content outlines the importance of sustainability and iwi partnership to Mercury and the region as a whole.
Key user journeys were mapped out, prototyped, tested and refined numerous times, ensuring the final experience is inspiring, rewarding and easy to navigate. AR turns what could have been a static display into an adventure of surprise, delight and wonder. These are attributes that align with the brand experience Mercury want their staff, customers and stakeholders to have.
The Results
Analytics tell us that users are enjoying the experience with extended stays, multiple station visits and interaction with many elements. This is reinforced by positive user feedback. Mercury were so impressed they asked us to make a portable version of the wall which they now take to customer, sales and shareholding meetings around the country. And next up is a version that could be mailed to customers to experience with their own device.
See our case study on the full brand showcase here.