Evolving keeps NZ Super on the front foot
Client: NZ Super Fund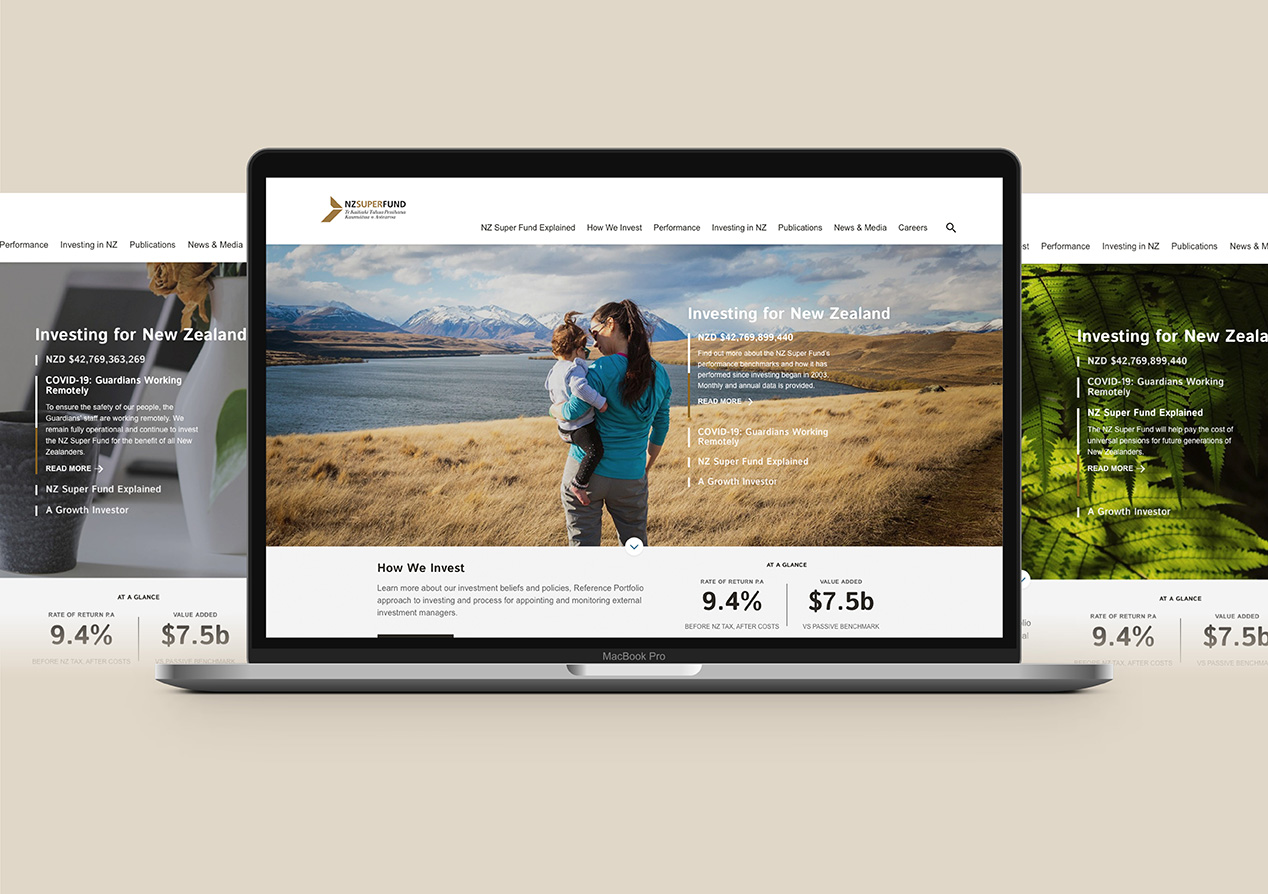 Primarily driven by technical necessity, NZ Super Fund took the opportunity to gently modernise their site and improve ease of use in line with today's user expectations.
The Brief
The core intent of NZ Super Fund's website is to help audiences understand its investment approach and track its performance. Since we designed and built the site in 2015, content management systems (CMS) have changed, expired and evolved significantly. And users expectations have changed alongside the improved functionality now available. The NZ Super Fund site simply needed a timely refresh to harness theses shifts.
Technically, one of the challenges of the CMS change was the migration of 6 years of archived material, while maintaining multi-layered details such as links, imagery and documentation.
The Solution
By migrating the site to an advanced CMS, we had the opportunity to review the structure of what is an extremely large site, use technology improvements to ease site navigation and ensure the site was easier to manage and maintain. And as even the best designs can become tired over time, we took the opportunity to evolve the site's look and feel to a more modern design that worked more intuitively with touchscreen devices and adopted new methodologies around usability, accessibility and overall user experience.
We prototyped and validated the information architecture (IA) through card-sorting and architecture workshops.
We developed a tiered content approach that encouraged better quality content consumption.
We identified, prototyped and improved user workflows.
We modernised the design with increased visuals and simpler interactions.
And we advanced the interactivity of the site's storytelling.
The Results
The upgraded site presents content in a more connected way, centred around themes and topics, and enhances the user experience. Equally importantly, content creators at NZ Super Fund are enjoying a much improved workflow. Our client has received positive feedback from their users.