Move forward together
Client: Ngāti Whātua Ōrākei
SILVER: 2016 BEST AWARDS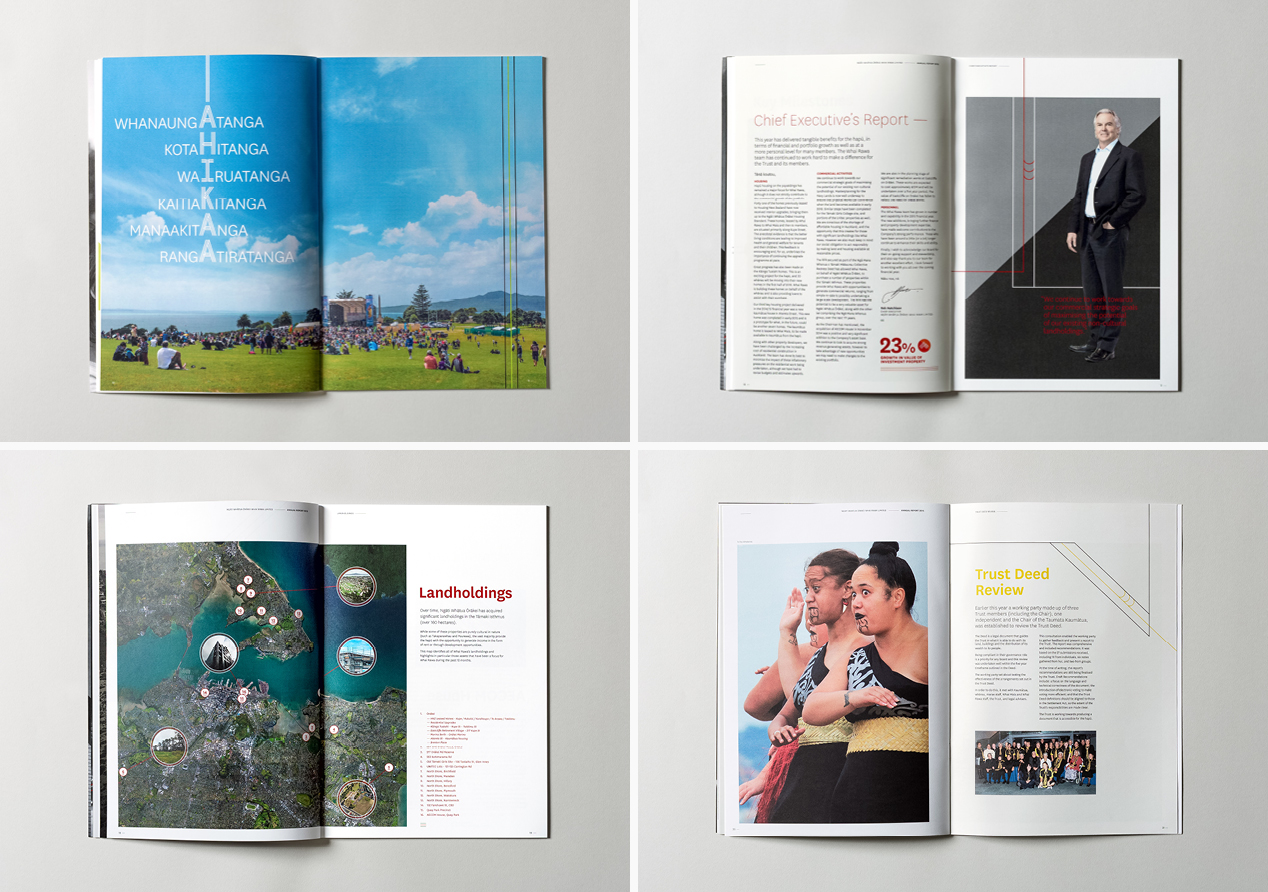 A common design approach across three related entities delivers a united voice for Ngāti Whātua Ōrākei while still letting each entity sing its own song.
This suite of annual reports takes a confident stand about identity, land and people.
The brief
Each year we are challenged to use the annual reporting process to tell a unified story across Ngāti Whātua Ōrākei's three entities: Whai Rawa, the commercial arm; Whai Maia, the community arm; and the Trust, the custodians of the people - past, present and future.
In 2015, the Trust led the way with a strong call for their people to unify and move forward together. We worked closely with each entity to adapt this messaging platform to their areas of focus and the activities of the last year. The resulting theme informed both our design and the client's copy, allowing for a strong co-created expression.
The Solution
To capture the strength of the call to action we led with typography, creating a bespoke typeface, using three lines to represent the three entities acting as one. The typeface is a metaphor for coming together and features inaunahi (three fish scales), the hapu's signature, present in the carvings on the marae. Black was also given prominence to give strength to the visual message, and it works with the selected colour of each entity to represent moving forward together from darkness to light.
A common design approach across all three reports delivers a unified Ngāti Whātua Ōrākei voice while still allowing each entity to sing its own song, through considered changes in tone, graphics, icons and photography. Combined, three inter-woven stories are told:
The Trust's report speaks directly to the theme, using Ahi Kaa as a call to their people to know who they are, what they stand for, where they are going and to move forward together. A strong inter-generational focus and a clear link back to the marae is delivered through the imagery.
Whai Rawa speaks to a broader business audience about delivering value. Its expression is more business-like delivering strength through numbers, statistics and graphs while still maintaining the common messaging and design themes.
Whai Maia oversees community activities, nurturing the growth of the hapu's people. Their report showcases real stories and outcomes being delivered, through photography and large pull out stats and quotes.
The Results
The bold and confident stand about identity, land and people, has been met with an equally resounding response from its audiences. The client tells us their business and communication objectives have been exceeded and the reports have become a touchstone for bringing people together.