Aligning core purpose
Client: Insight Creative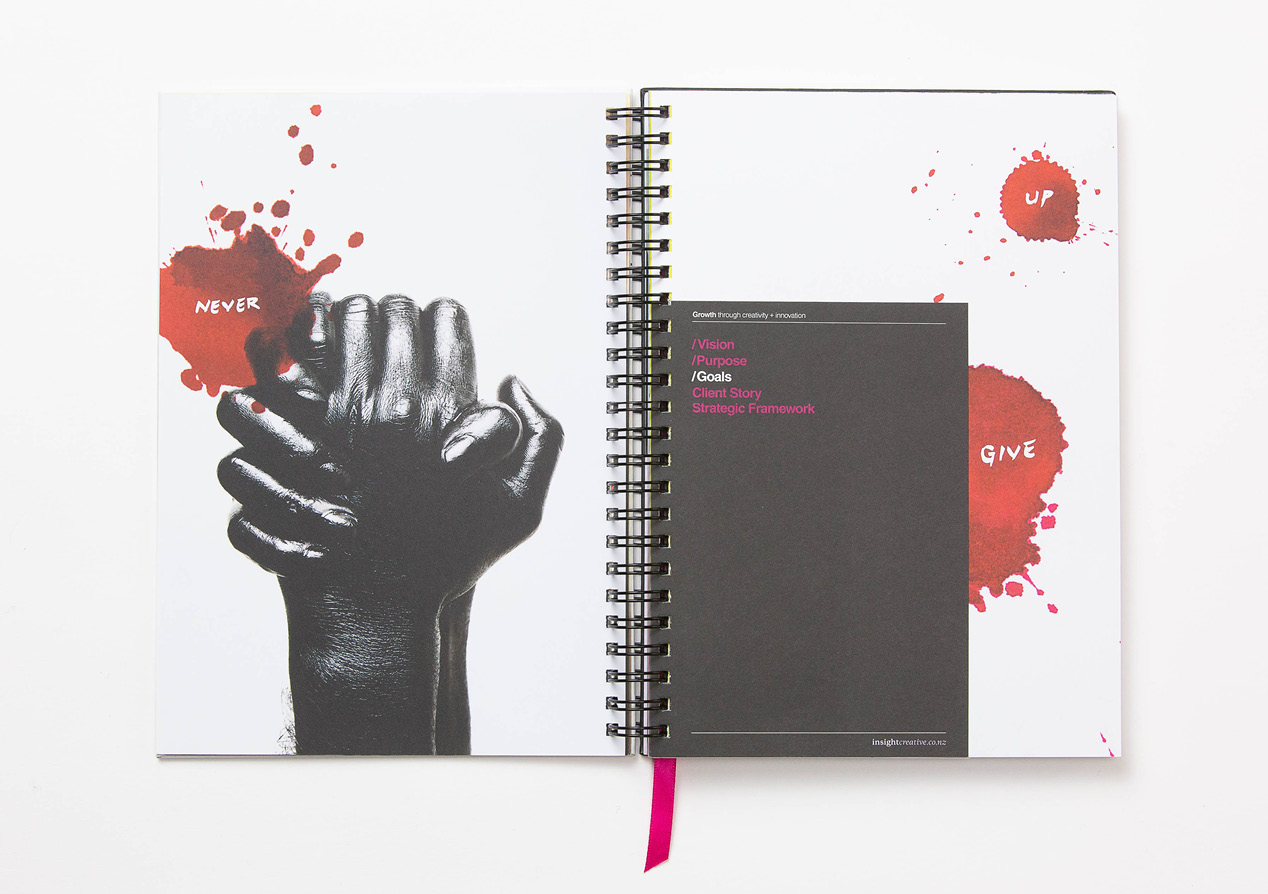 Is ensuring company strategy stays constantly alive for everybody in your team, every day, an unrealistic expectation?
Come to a meeting, and you'll see our staff writing in this notebook. It's our way to engage our people fully with our strategic plan and keep us all aligned with our Vision, Purpose, Goals and Values.
The Brief
Every year, we run a strategy day with the team to review the year that was and to ensure everyone understands the priorities and activities for the year ahead. This alignment of company and individual goals ensures we work collectively towards the same outcomes.
A creative and messaging theme is established, and this informs a strategy day notebook – a companion notebook that all staff use daily throughout the year, reminding them what's important.
The Solution
2018 was the fourth year of this initiative and the first in a new three-year strategy cycle. The theme for this year's strategy was Growth through innovation and creativity.
This became the creative driver for a strategy notebook that not only felt different from previous ones but also actively demonstrated the theme.
The cover addresses the idea of looking beyond what's in front of us to the possibilities ahead. This speaks directly to innovation and creative stretch and sets the tone for what's to follow.
The opening spread is accompanied by an augmented reality expression that sees the 'the ideas machine' in action. It grows and moves as it spits out an endless supply of innovative and creative ideas. The use of AR and the design subject matter both speak directly to our core theme.
Nine big conceptual spreads push the creative boundaries, visualising a series of single-minded messages around key strategic matters like our purpose, goals, clients, people, process and work. Each one is complemented by a small page that presents an aspect of strategy in a straight-up no-fuss way.
Divider pages use bold, attention-grabbing design approaches to communicate core values like leading-edgeand evolving.
The simple notes pages, bookmark and cards holder convey real functionality, allowing everyone to do the basics needed to grow financially and creatively.
The notebook is a good engagement point for clients, so this year we also created a 'clients only' version that excludes the details of our strategy.
The Results
This is the fourth year of this staff engagement and alignment initiative. We continue it because it works (as part of our holistic culture and internal communication programme). Come to a meeting, and you'll see our staff writing in their notebook. Even better, now you'll see many clients writing in the same notebook.
Internally, many conversations around priorities and next steps result in someone referencing something in the notebook. Our strategy is alive in everything we do, at all levels of our organisation.
We've shown the AR execution to some clients, and already two have said they want something similar. The notebook is already helping us grow.