Aligned brand, culture and recruitment expressions
Client: Crombie Lockwood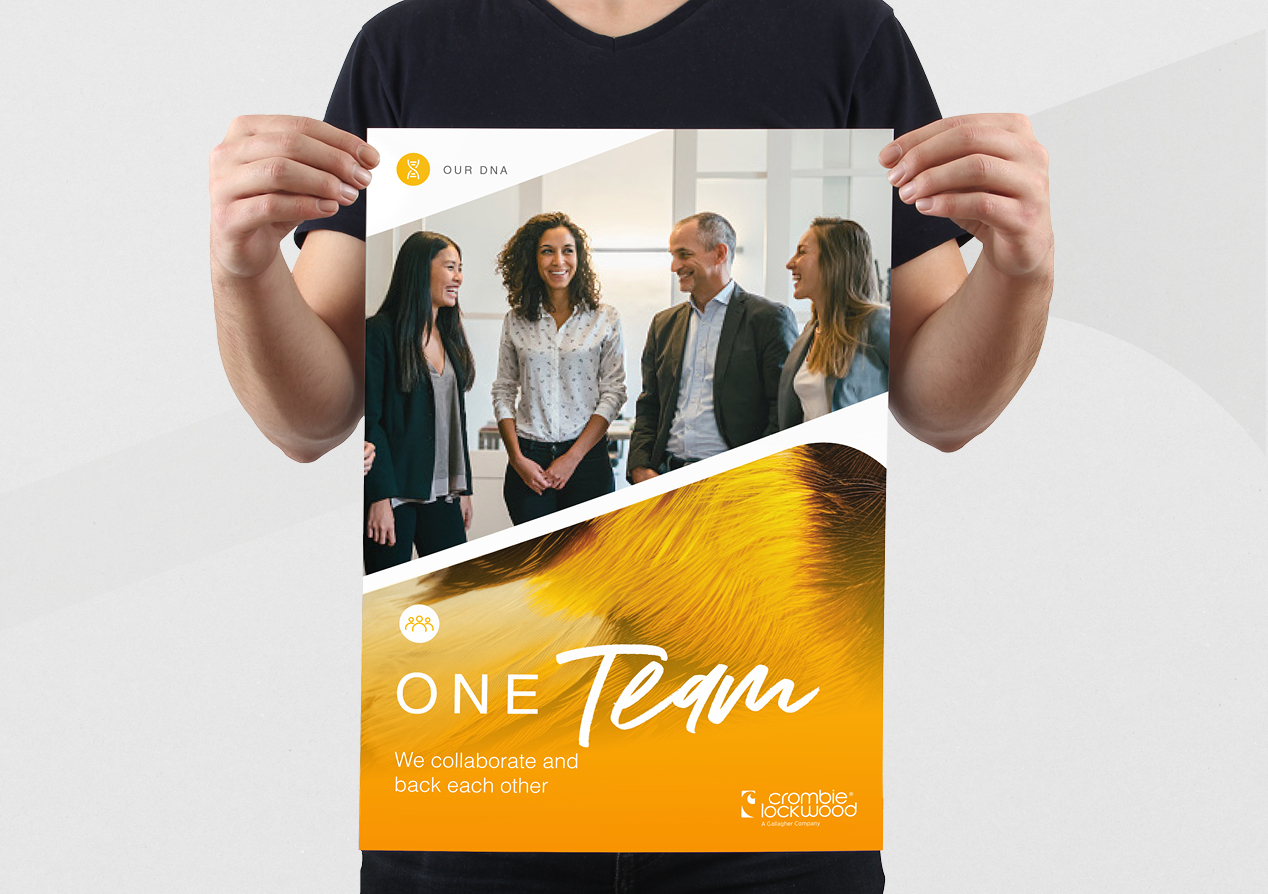 An engaging employee value proposition to attract potential employees and unify existing ones.
The Brief
The best brands are underpinned by an engaged internal culture that drives staff behaviours towards delivering the external brand promise. Our brief was to distil the essence of Crombie Lockwood's DNA into an engaging employee value proposition, with a clear 'WIFM' to attract new talent, while also expressing the culture they'll experience when they join. EVP and internal brand all aligned with Crombie Lockwood's existing 'natural protection' brand positioning and identity.
The Solution
We started by working through the brand, culture and employment promise with key marketing and HR team members and followed this up by interviewing recent recruits. The goal was to understand key recruitment drivers and also to assess how their joining experience aligned with their expectations.
The four areas with the strongest alignment between internal culture and what drove potential employees led to four single-minded stories and visual mood boards. These 'territories' were tested internally and then bought together in an aspirational 'succeed together' positioning. It's a positioning that reflects individuals' employment drivers, Crombie Lockwood's internal sales- and solutions-focused culture, the desired team dynamic and the external brand proposition of doing what's required to allow Crombie Lockwood's customers to succeed.
Succeed together is bought to life visually by building on the external brand identity to deliver a more human, action-orientated and informal approach to recruitment and internal communications. A series of new warmer colour hues and a handwritten font add a more modern, passionate and personal tone. This energised feeling is further heightened by 'real team' photography and the dynamic, close-up treatment of the brand's feather texture. A variable content-container system introduces a design structure to communications, with its 'diagonals' capturing a sense of successfully moving forward (and up) together.
The Results
Early days but the first executions, based on our new positioning and identity, seem to be hitting the mark with both potential employees and existing staff. And the flexibility in the design system is allowing Crombie Lockwood's internal design team to tailor its application to the various audiences, messages and communication vehicles.