An inspired brand experience
Client: Mercury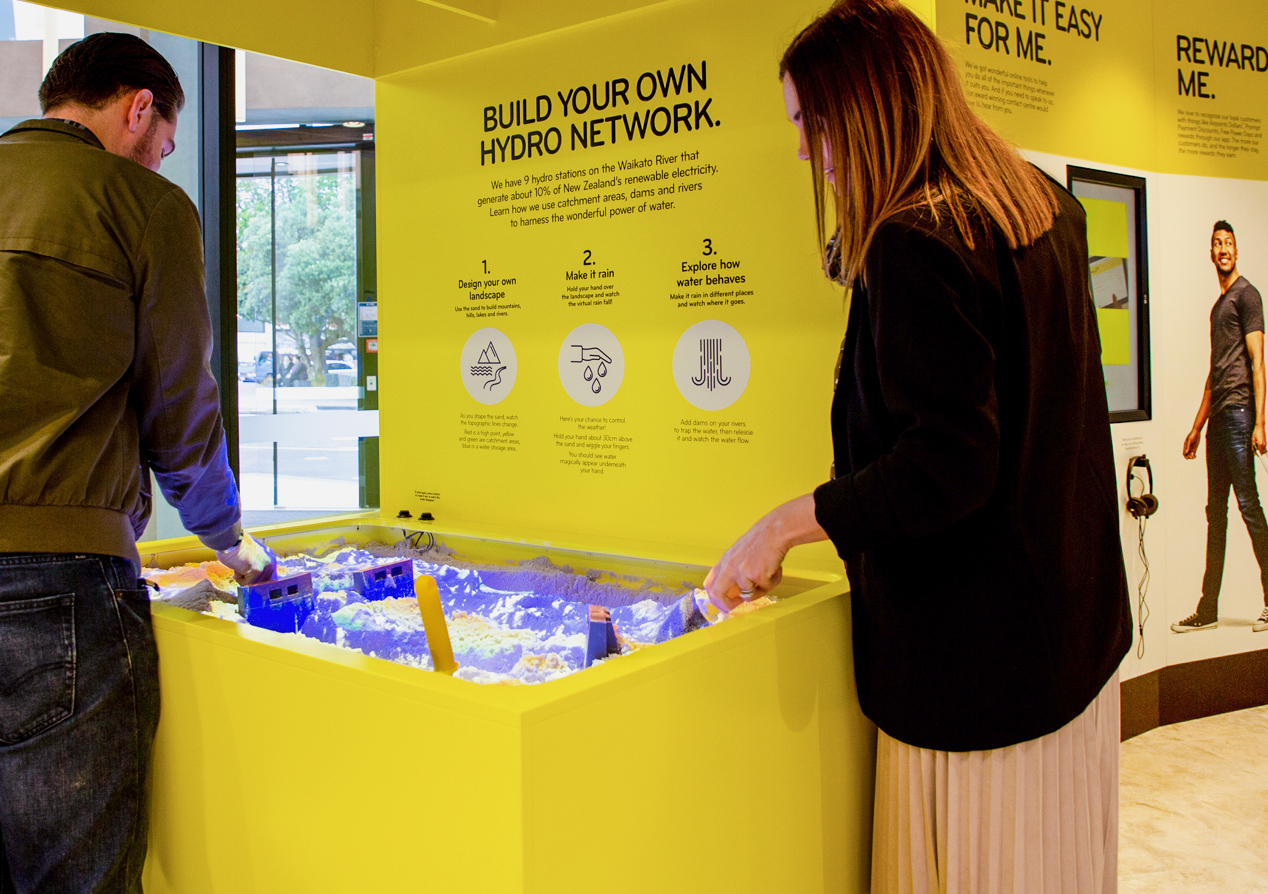 A visitor experience that showcases Mercury's brand proposition.
The Brief
For the move to their new building in Newmarket, Mercury asked us to create a street-front visitor experience that showcased their 'energy made wonderful' brand proposition, encouraging visitors to come in and engage with the brand. With a long-list of stories, and a very defined space to tell them in, the curation goal was for a highly-engaging, fun, yet educational, experience.
The Solution
Our initial thinking was to:
Express the energy and joy of the Mercury brand.
Follow the natural journey of electricity, from generation through to the customer.
Offer multiple engagements – read, watch, listen, touch, play – for all ages.
Our single-organising theme of 'inspire' generated multiple display ideas, presented to the client in two very different visitor experiences. The first a linear and enclosed journey, the second an open 'curated' exhibition approach. Creating both journeys as a virtual reality (VR) walk-through allowed the client to immerse themselves in each experience before selecting the preferred approach - a hybrid that leverages the best of both journey types.
Visitors start at the Waikato river. Using kinetic sand, a topographic overlay, projected rain and 3D-printed dams, they play and create their own hydro-generation network in the sandbox. An augmented reality (AR) interactive follows, showcasing Mercury's generation activities in the Waikato region. With numerous animations, photos, video, stories and hidden 'easter eggs', visitors discover new things every time they point an iPad at the wall. The region is further highlighted on the big screen with a drone fly-over of Mercury's power stations, proudly displayed in a beautiful high-colour, high-definition cinemascope finish.
The play and learn approach continues with a user-activated 90cm electric Lego wind turbine. This is followed by the 'how we make electricity' animation table that uses a continuous graphic to explain how hydro, geothermal, solar and wind power are generated. Moving to the interior of the space, we use video and the voice of the customer to showcase the Mercury brand promise in action.
A physical drive experience houses Mercury's Evie virtual reality (VR) application, making visitors feel like they are actually driving Evie. We end in the customer's home using stylised graphics to highlight day-to-day energy use. Portable iPad stations give visitors the chance to interact directly with Mercury's products and services and a highly futuristic animated video inspires visitors to think about what the future of energy may look like.
Naturally, the overall design aesthetic is brand aligned with a strong use of yellow, Mercury photography, graphics and icons and their very unique tone of voice. Lighting, along with display shapes and placement, helps foster a natural flow, creating an engaging, fun and rewarding experience – from river to home - for all visitors.
The Results
Many visitors to the building are found with a big smile on their face playing in the sandbox, on the AR wall or wearing VR glasses, deeply immersed in an inspired 'energy made wonderful' brand experience. Ideas for phase two of the experience are already underway, with cool ways to extend the experience planned.
See how we extended the brand into the workplace environment here.