Pre-empting a step-change
Client: Stand Children's Services
SELECTED: GRAPHIS ANNUAL REPORTS 2014 - 2016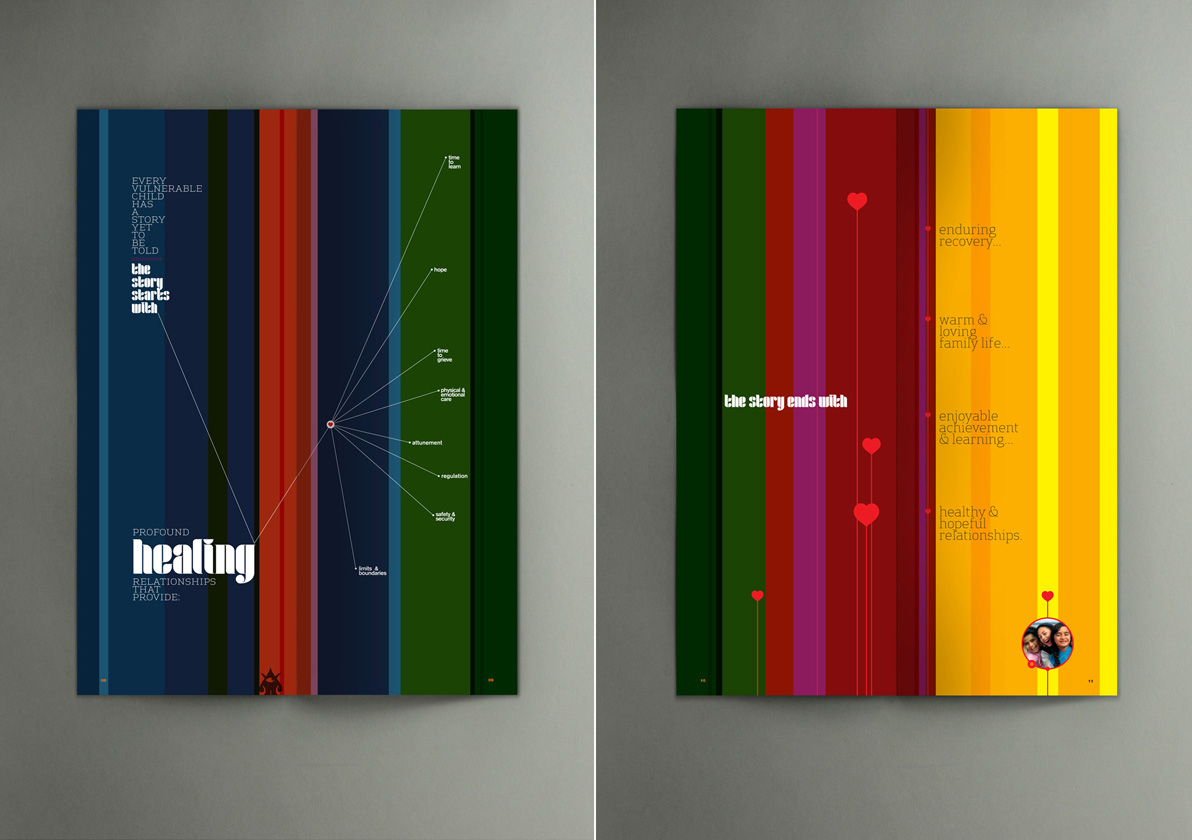 How do you produce an annual stakeholder report with shelf-life, when you know the entire brand is about to change?
Unlike many annual reports, the Children's Health Camps annual report remains on people's desk for constant reference and to be shared with others. We created a report which still made complete sense when the new brand name and identity was unveiled a few short months later.
The Brief
Te Puna Whaiora Children's Health Camps (CHC) work to transform the lives of children (aged 5-12) who are at significant risk of harm as a consequence of the environment they are being raised in and their own complex needs. The organisation do not undertake any specific communication or marketing activities throughout the year therefore their annual report is their primary form of communication with stakeholders. Its purpose is therefore way more than just meeting the statutory requirements, but a vehicle to highlight the plight of many children in New Zealand and showcase the amazingly transformative work they do. Our job was to ensure that the annual report tells the CHC story – including the problem, the opportunity and the solutions they offer- in the most compelling and engaging way possible.
The Solution
When we were briefed on the annual stakeholder report we were already underway with rebranding the organisation to Stand. We therefore didn't want to create this important communication piece and it to be quickly out of date. Accordingly, we used Stand as our creative inspiration and platform. The format was designed to 'stand tall'. The graphic language used plays on the idea of standing and growing. The transitions in mood and colour - from darkness to light - mirror the journey CHC take children on, from despair to hope. The bold colours, along with the expressive typography and real photos, give the document a lush, energetic and celebratory feel. At the same time, the document doesn't shy away from being direct and hard hitting in the way the issues are boldly presented. Its format, colours and overall approach challenge all the conventions typically associated with annual reports, and in doing so, it creates cut through to its target audiences. Unlike many annual reports, the CHC annual report remains on people's desk for constant reference and to be shared with others. It is a starter of on-going discussion about the well-being of children, and therefore it not only documents, but actively contributes to, the solution.
The Result
The annual report has helped galvanise staff in the CHC sites around the country, giving them something to unite behind by showing them that they do make a real difference.