Wonder at play
Client: Starship Children's Hospital
FINALIST - ENVIRONMENTAL GRAPHICS: 2020 BEST AWARDS
FINALIST - PUBLIC GOOD AWARD: 2020 BEST AWARDS
FINALIST - DIGITAL, INSTALLATION & EXHIBITION: 2020 BEST AWARDS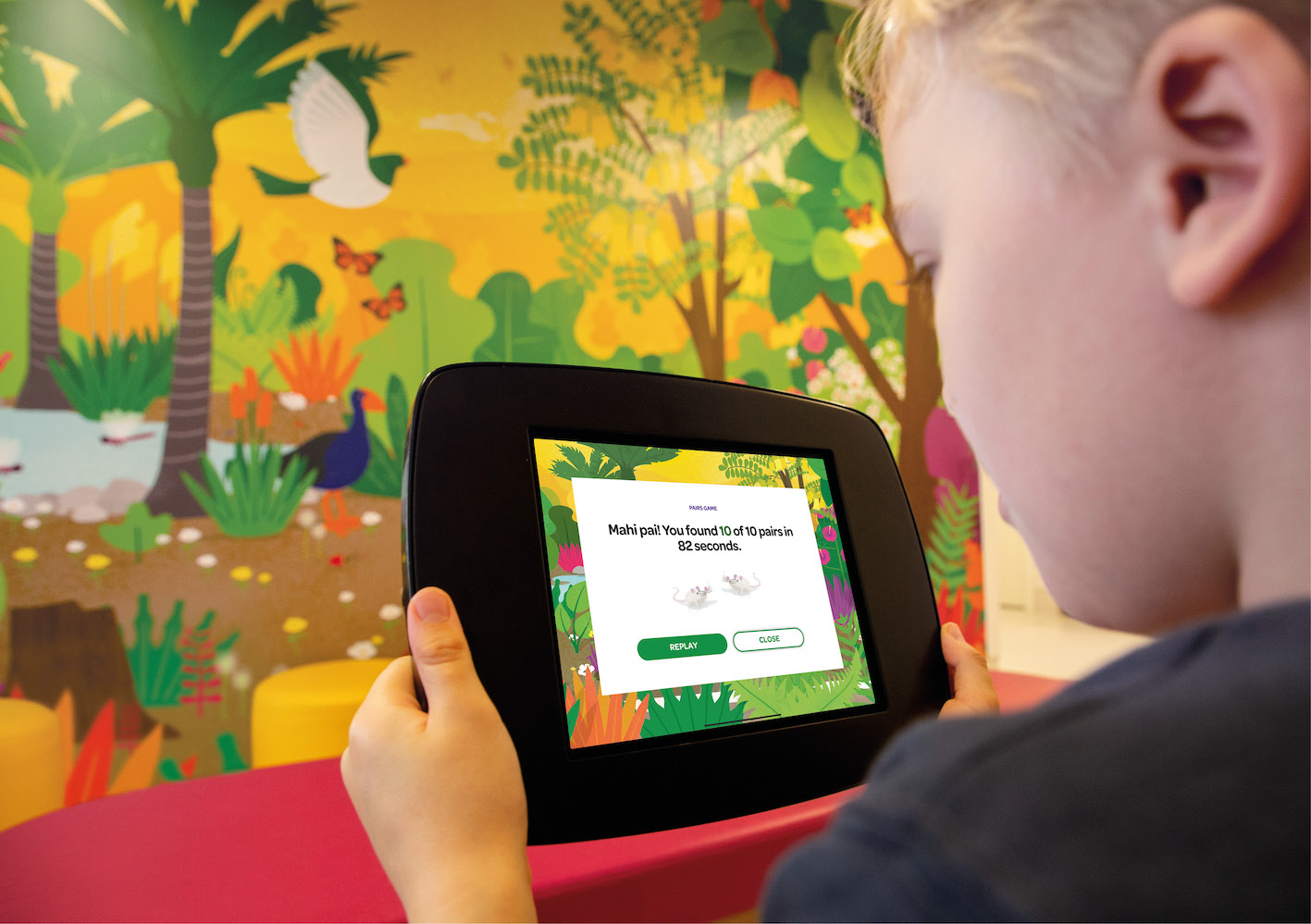 The Starship team do an amazing job every day in treating our children while always ensuring the children, and their whānau, cope with the stress of being unwell.
We were honoured to be asked to create a fun and engaging experience that eases anxiety and keeps children calm while they wait to see a clinician at Outpatients.
The Brief
Starship's Outpatients Department has over 80,000 patient visits a year, and that number is growing. The child-centric experience would feature as part of a three year, $3.8m upgrade to the facility, made possible by Starship Foundation Five Star Partner Mercury. The refurbishment has seen the department transformed into a bright, modern environment with children and families at its heart.
The Solution
Our solution was to create an Augmented Reality (AR) experience to transform the Outpatients area into a magical wonderland of kiwi flora and fauna. This experience was applied to two large walls (approx. 2.5m x 4m each) in two waiting zones.
The walls depict the Wonderful Starship Forest, an idyllic imaginary world rich in NZ flora and fauna. The composition and elements were created by our design team and brought to life by leading illustrator Chris Davidson. The bright and cheerful colour palette reflects Starship's brand and other artwork throughout the hospital.
Using an iPad, children activate the AR experience, magically bringing the wall to life with movement, sound and interaction. Developed in consultation with Starship Play Specialists, the interactive experience applies medically proven therapeutic techniques for creating calm and engagement at three levels:
Look – birds and butterflies fly, insects crawl, kiwis and pukeko graze, and trees sway in the breeze. Moving the iPad across the wall allows kids to see more of the forest and the creatures within it.
Interact – designed to encourage kids to explore by tapping on elements and activating some delightful surprises. For example, snails retreat in their shell, day becomes night, flowers bloom, and dandelion seeds fill the air.
Play – for more sustained engagement, three simple games allow children to find kiwis in the dark, match animal and insect pairs or help the bees pollinate flowers.
The children who visit Starship Outpatients vary in age and background, so making the user experience accessible for all was crucial. The navigation uses minimal words, relying on universal symbols, pictures and actions to instruct. Buttons are bold and bright. A multi-language welcome and a variety of positive messages throughout reinforce structured play and add to an overall feel-good factor.
To engage family members (and to tempt others to the wall) each iPad is mirrored onto mounted TV screens. This allows parents and/or guardians to share in their child's fun.
The Results
Pre-launch testing told us that children would love this interactive experience, but we were still overwhelmed by the response. The waiting area is full of laughter, and children commenting "this is awesome." Starship staff are delighted and feel the Wonderful Forest delivers everything they wanted it to, and more. Senior Nurse, Tessa Grant, told us "the biggest challenge now is getting the children off the iPads and into their appointment."
The Wonderful Starship Forest was made possible with support from Mercury and their wonderful customers. Mercury was so thrilled with the result they commissioned a stand-alone App version to help keep Kiwi children actively engaged during the Covid lockdown.