Communicating intangible advances
Client: Smartgroup
2023 INTERNATIONAL ARC AWARDS - GOLD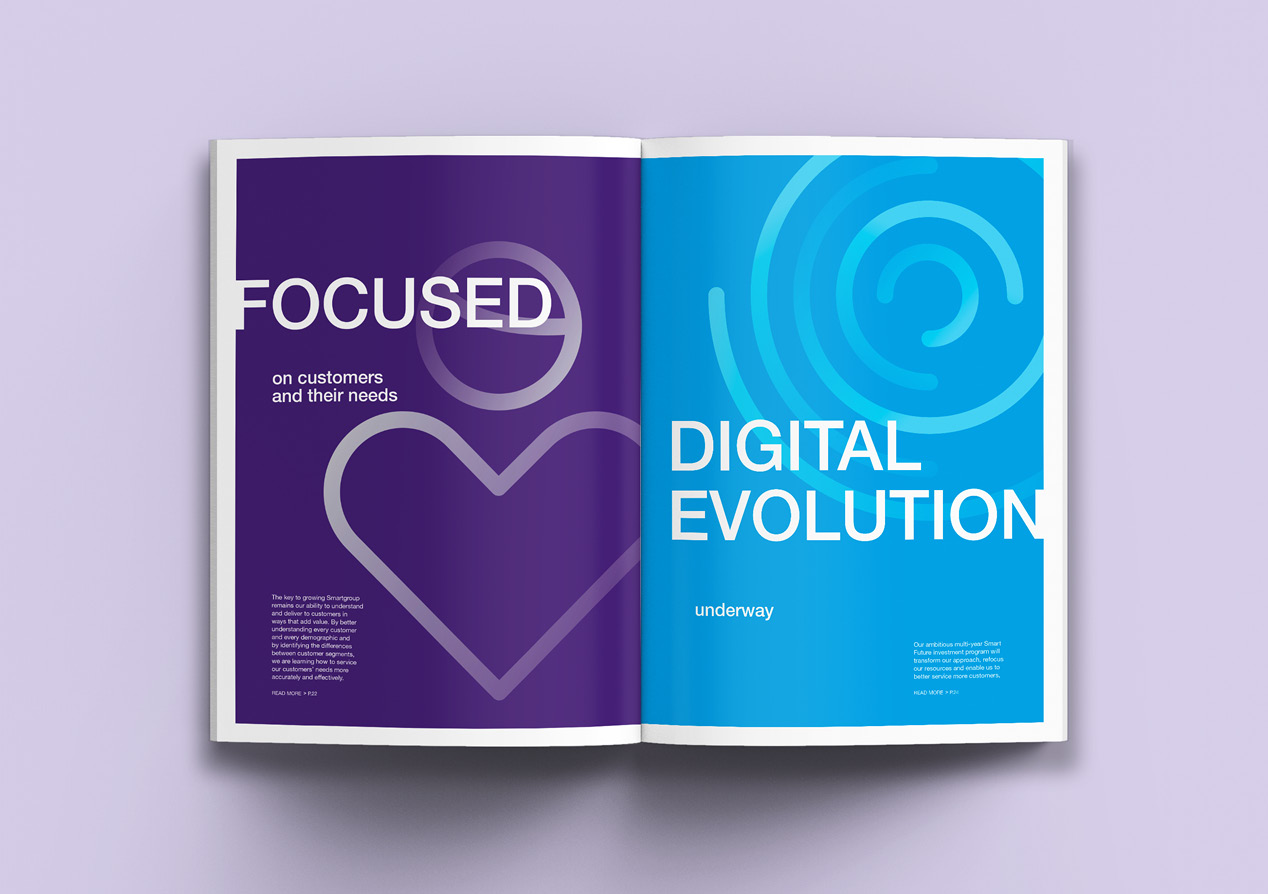 The biggest challenge was communicating the right balance between positive long-term actions and the short-medium-term headwinds.
The Brief
Smartgroup is an Australian company specialising in simplified employee management services such as salary packaging, fleet management, payroll processing and workforce management. Salary packaging is an Australian Tax Office approved incentive that allows company employees in that country to increase their disposable income by paying for certain expenses from pre-tax income at no cost to them.
With massive scale from a client base built around the public services such as teachers, nurses and emergency services, Smartgroup originally grew very rapidly through multiple acquisitions. After the acquisition programme ended, a new organic growth strategy was enacted built around unification of systems, simplification and digitalisation of the business.
The aftermath of Covid meant that vehicle supply chain issues slowed financial performance, while rapid progress on the digitalisation programme was hampered by worldwide talent shortages. It was against this backdrop that the 2022 report is set.
To complicate matters further, a comprehensive new sustainability and ESG strategy was launched to coincide with the year end profit announcement. The report needed to explain progress on all these fronts.
The Solution
Because the biggest challenge was getting both progress on positive actions and the short-medium-term headwinds communicated in the right balance, our initial effort went to really simplifying the messaging. And to find a direct way to communicate quite invisible advances in a tangible way.
Once we had those key messages distilled, we set about heroing them to help clarity and understanding, cross-referencing to deeper explanations later in the report. All the while ensuring that readers didn't lose sight of the core strengths of Smartgroup's ongoing business model.
The design approach was an evolution of prior years' work but streamlining even further to reflect the company's user journey simplification.
Smartgroup's first Sustainability/ESG report was a large project, simply because it was developed from scratch. It was separate and online only, and because of that, we elected a screen-friendly landscape format with considerable effort applied to streamlined linking to make the most of the native digital format.
The Results
Smartgroup appreciated how we streamlined a complex brief into a cohesive and compelling summation of their business and its progress. They were also thrilled with the publication of their first comprehensive ESG Report, achieved on a timeline concurrent with their annual report.
The report took out the Gold title in the 2023 ARC Awards out of New York in its category.