A digital-first annual report
Client: Ravensdown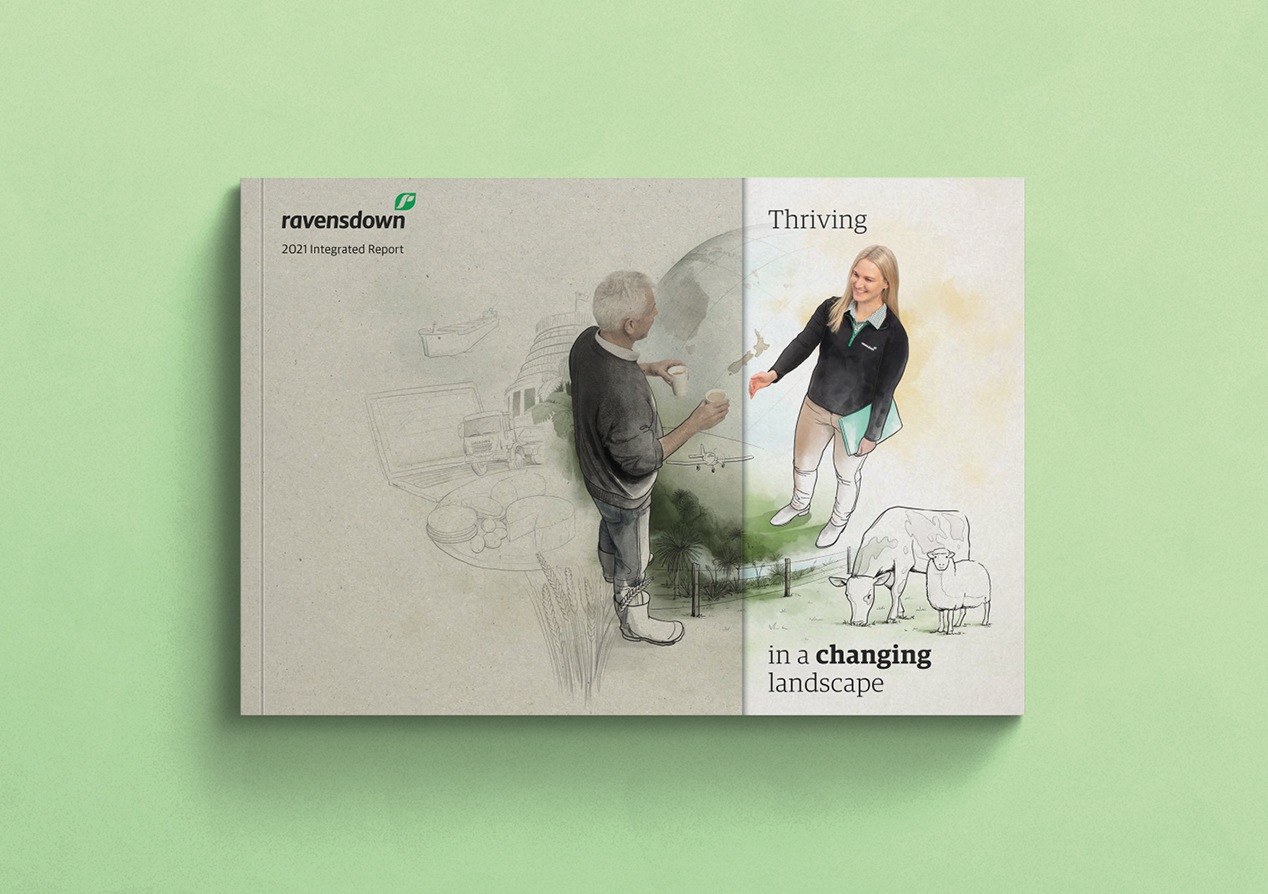 A screen-oriented, concise-driven, suite-approach to this year's Ravendown reporting continues their constant drive for evolution, innovation and edginess in stakeholder communication.
The Brief
Ravensdown have been on their integrated reporting journey with us for a few years now and are always open to a touch of innovation, creative leadership and maximising the possibilities that the integrated reporting framework strives to achieve. This year was no exception, with the invitation to reinvent their communication and reporting approach and lead their thinking into a different approach.
The Solution
For the 2021 year, we used a variety of visual tools, scale and storytelling techniques to achieve the most effective communication results. We started our thinking by interrogating Ravensdown to ensure we understood what innovation and creativity means for their particular audience - an often embattled yet stoic farming community facing more and more scrutiny and regulations on process. That gave us great clarity on where their thinking was at and what opportunities we could explore.
An early decision was to carefully balance the content of the printed document while considering online effectiveness and complementarity. This resulted in the approaching the print document in pdf viewing terms, meaning a shift to landscape format and a larger point size for the content. The other mindset shifts were to make this document more concise by placing content that was constant from year to year (such as glossary information) in a separate document and reducing this document to the most pertinent topline information.
The design approach features an artful combination of illustration and photography, stitched together to illustrate the complexities, shifts and relationships that constantly change in the industry. A subtle shift of tone is achieved with a double cover and layered pencil sketch which becomes a fuller colourful image as the relationship between farmer and Ravensdown is brought to bear. The CEO, Chair, board and leadership team all have the same illustrative and photographic treatment, while textures and brush strokes sustain the idea of a constantly dynamic farming environment.