Presenting the straight-up reality of farming's impacts
Client: Ravensdown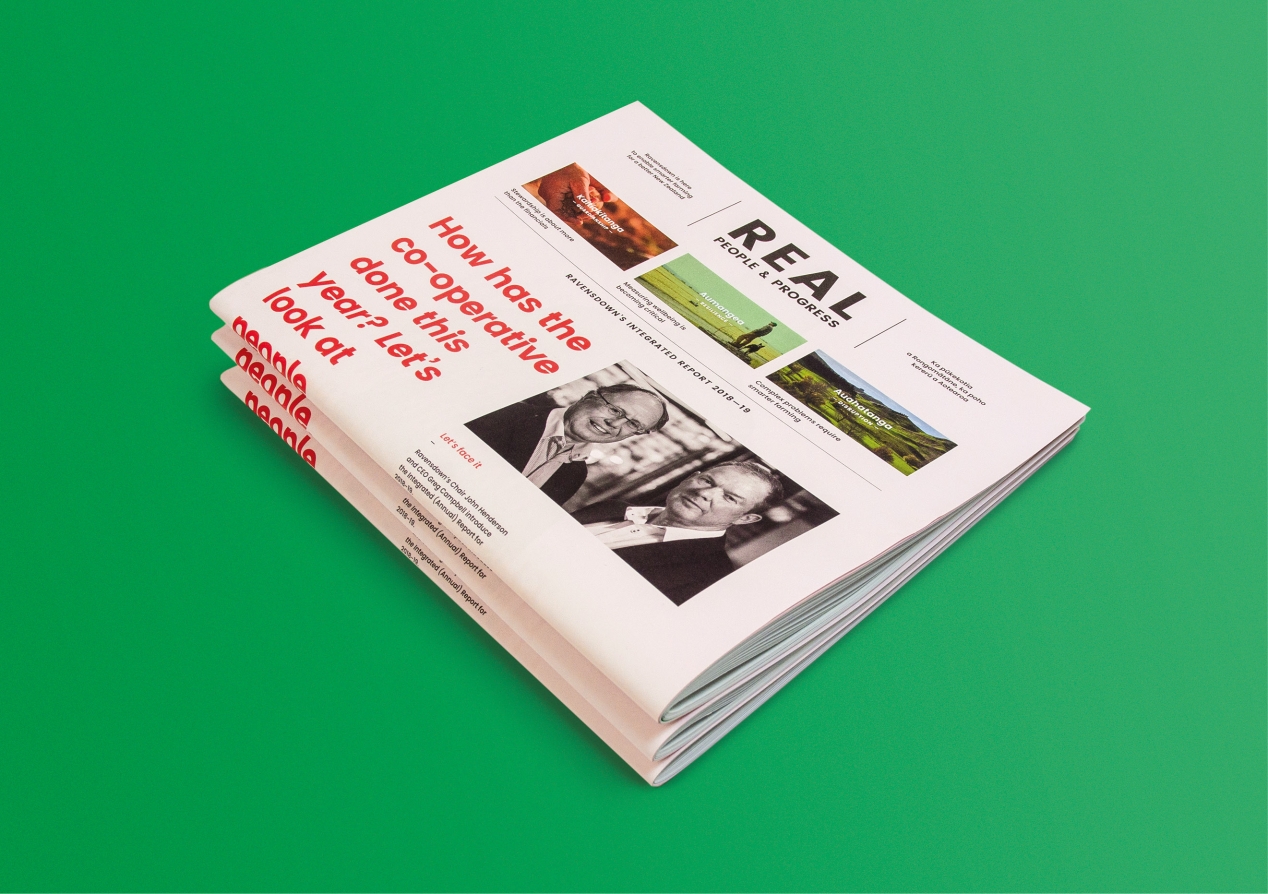 Ravensdown keep upping the ante. Last year, the company challenged the farming industry and the watching public - and their own people - to 'expect more' of themselves and the agri-sector's environmental behaviours.
This year, they doubled-down on those expectations.
The Brief
Ravensdown's brief was to deliver the unvarnished truth. To get real. This was not to be a polished PR design piece, but acknowledge the expectation challenges being laid at farming's door and openly frame how Ravensdown are responding.
The Solution
To highlight the real 'realities', Ravensdown approached three independent commentators, to challenge both the company and the sector on real issues. And there was to be no 'sugar coated' editing of what they had to say. Sir Rob Fenwick, noted environmentalist and business leader, berated businesses who maintained a sole 'success' focus on financial capital, saying that such a narrow focus is 'yesterday's thinking' and 'a dangerous model'. Dr Lucy Hone, a psychologist and human resilience researcher, warned that the rural sector is not immune to mental illness and growing pressures and realities, with the challenge that 'farming had better put aside the idea that wellbeing is for wusses'. And Nuffield scholar and Ravensdown shareholder, Mat Hocken, reminded us that the business of farming has been massively disrupted before and could easily be so again.
Once we saw what these commentators regarded as the sector's greatest immediate threats, Ravensdown responded with their initiatives and focus areas to address these and other issues. And in a third section of this integrated report, detailed their progress on identified pathways towards improving material matters.
The design was carefully crafted to 'get out of the way' of these important messages, and enhance the 'real' nature of the subject matter. The selected format evoked a tabloid newspaper, photography was gritty black and white, and the layout was designed to let the stories be the heroes.
This report also enabled direct connection to video interviews of people featured in the many stories. Insight's 'Magenta' app enables the reader to simply point their device at a photograph in the report to trigger the video to play.
The Results
The soul-bearing honesty of the report, in both content and presentation, was exactly in line with what the company set out to achieve. And response among the reporting community has been one of high interest, with comments such as 'truly innovative; and a 'market leading example' of integrated reporting.
As the world gets to grips with the Integrated Reporting Framework, we learn its flexibility and its encouragement of truly engaging reports that tell honest stories - as long as we deal openly and honestly with the issues that most materially affect companies and their broad group of stakeholders.