The annual report as an egalitarian communication piece
Client: NZ Post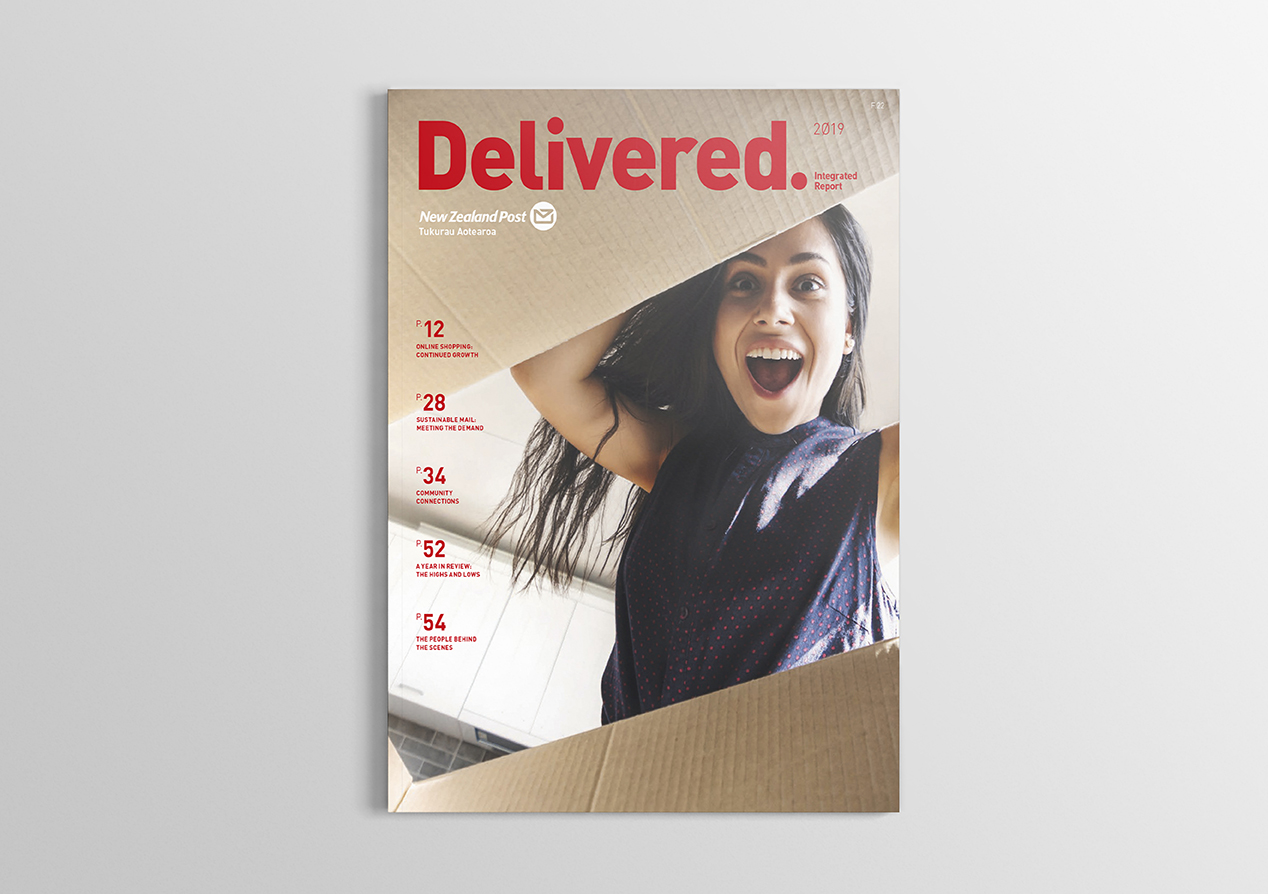 Today's integrated reports need to reach and engage a much wider audience than just the business savvy and financially literate.
The Brief
Our primary task for our first annual report for NZ Post was to help a wide range of readers more clearly understand NZ Post's rapidly changing business, their challenges, and their commitment to customers, people and community.
The Solution
NZ Post was the first to produce an Integrated Report in New Zealand in 2013 and joined the international pilot in 2011 – they were the only New Zealand organisation in the pilot, and so were well versed in the principles and framework. Where they felt their report could improve was in the communication aspects: they wanted to better capture the spirit of the organisation and tell their story in a more engaging and human way, and to a wider range of stakeholders.
We presented a range of ways that they could do this. Some adhered to a more traditional annual reporting approach (performance and data first) and followed the <IR> framework more rigidly. Others favoured telling relevant human stories over delivering information to a formula. Given that <IR> is a flexible framework and not a set of rules, every option remained true to the spirit and intent of integrated reporting, but with vastly different levels of convention. NZ Post favoured the communication power of the proposed 100% story-first option.
Of the many reports we've produced over the years, this was one of the most radical: both in the purity of structure, and in the power of communication over conventional formatting. And with that freedom of expression came the responsibility to ensure that the stories were clearly seen to be exemplars of NZ Post's strategy in action. The selection of story content directly addressed the <IR> sustainable business principles of value creation, purpose beyond profit, future focus, risk awareness and mitigation strategies, aligned business model, and stewardship of a range of capitals. The principles of connectivity and addressing the most material issues were made explicit through the use of a 'connectivity panel' accompanying each story.
We executed the strategic approach via an engaging and dynamic magazine-style format. This allowed us to set the story-telling tone right from the cover, continuing, uninterrupted, until some more statutory content appeared late in the report. This resulted in a high energy graphic style that maintained reader interest with plenty of variety and elements of surprise as the pages turned.
The Results
The report has been well received by a wide range of NZ Post stakeholders, and more importantly, well read. Staff particularly have found it highly readable, and sales teams have found it a useful tool in their marketing armoury.