A big step forward for Genesis
Client: Genesis Energy
2023 INTERNATIONAL ARC AWARDS - GOLD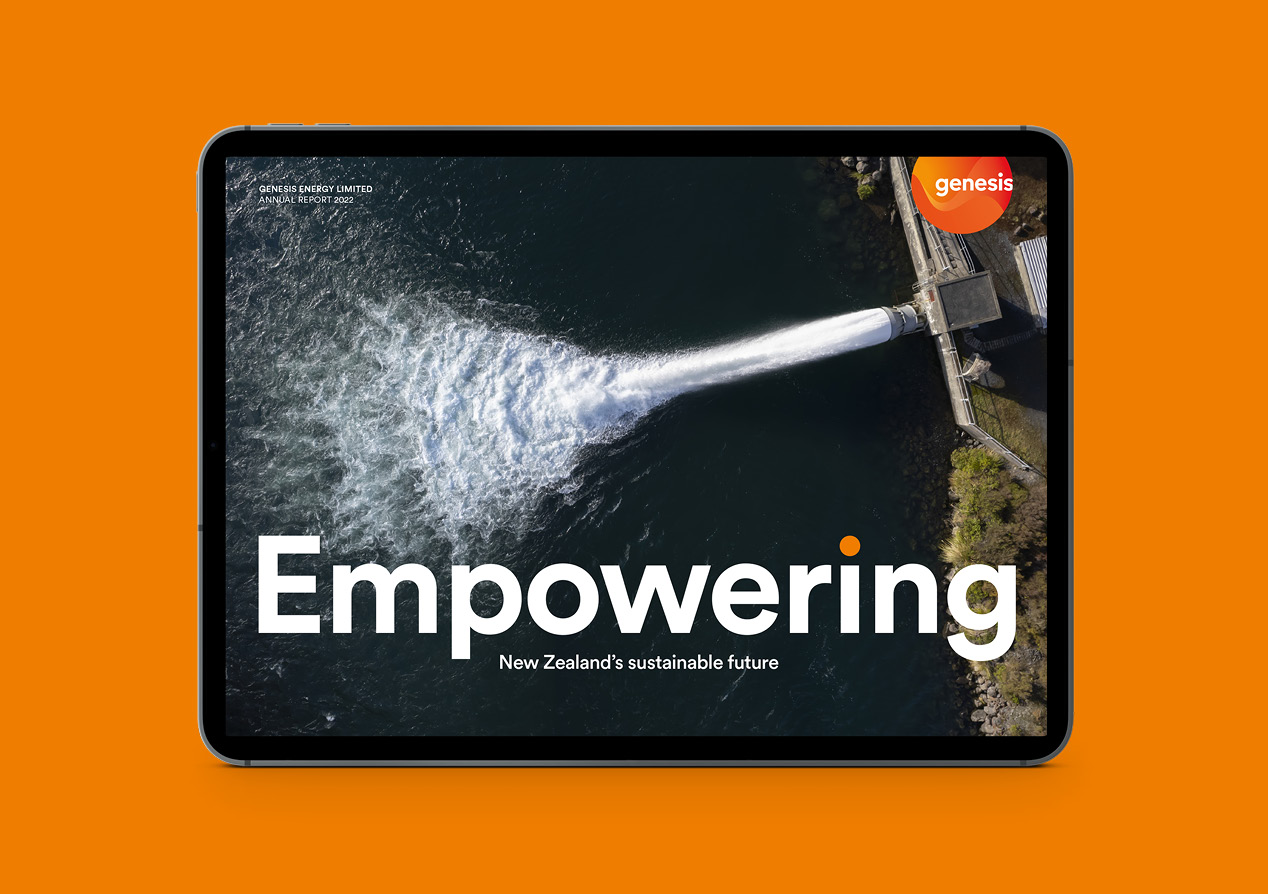 Graduating to integrated reporting requires considerable rewiring, planning, resourcing and data compilation.
The Brief
After guiding Genesis to a strong storytelling annual report in 2021 (which went on to win numerous awards in the New York based ARC Awards), they were now ready to take the next big leap – to integrated reporting.
The overarching message about helping consumers, business customers and the country lower their respective carbon emissions while Genesis rigorously managed its own remained and needed to be reinforced in a fresh way. And this time around, with greater internal resource focused on sustainability measurement and progress tracking, there was more evidential substance to disclose.
The Solution
Taking the leap to integrated reporting requires more than the right content though. It requires joined up thinking, holistic storytelling, a strong strategic focus, explaining how the organisation creates value for the full gamut of stakeholders, a clear future pathway, connectivity of information, and the right balance of qualitative and quantitative information. We worked closely with Genesis' communications and sustainability teams to optimise these aspects of the content. And our design and artwork teams maximised connectivity of information through comprehensive hyperlinking, both within the document and to external sources in the digital version of the document.
This digital version mindset was the other big step-change. Like many of our reports currently, the rapid reduction in print opt-ins means that the majority of readership is online. So, this year's Genesis report switched to a digital-first approach, rotating to a landscape format much better suited to computer monitor viewing. Adding clickable links greatly assists rapid navigation around the report, reinforces the notion of connected thinking, as well as hyperlinking to supplementary information and rich media elsewhere online.
The design approach builds on our work on the 2021 Annual Report, incorporating brand elements and imagery into a unique design for this report with active typographic opening and divider pages and evolving an agile use of the page grid to best suit the landscape, single page viewing, while allowing for varied lengths of text / imagery and supporting graphics. Section divider pages provide a subtle reset through the report, acting as anchor points for the different content sections and setting a considered pace through the document.
With more detailed content to impart, particularly in the data-evidenced areas of environmental performance, staff nurturing and societal contributions, it becomes important to consciously keep these sections as accessible, lively, and visually balanced as the more narrative earlier parts of the report.
The Results
The response to this report certainly reflected the changes made. One of Genesis' directors took the time to feed back that it was 'excellent – the words and pictorials are very, very good.' And the CEO added 'This is excellent. I love the look and feel, and the content works well too'.
The report took out the Gold title in the 2023 ARC Awards out of New York in its category.