The genesis of carbon reduction
Client: Genesis Energy
2022 INTERNATIONAL ARC AWARDS - GOLD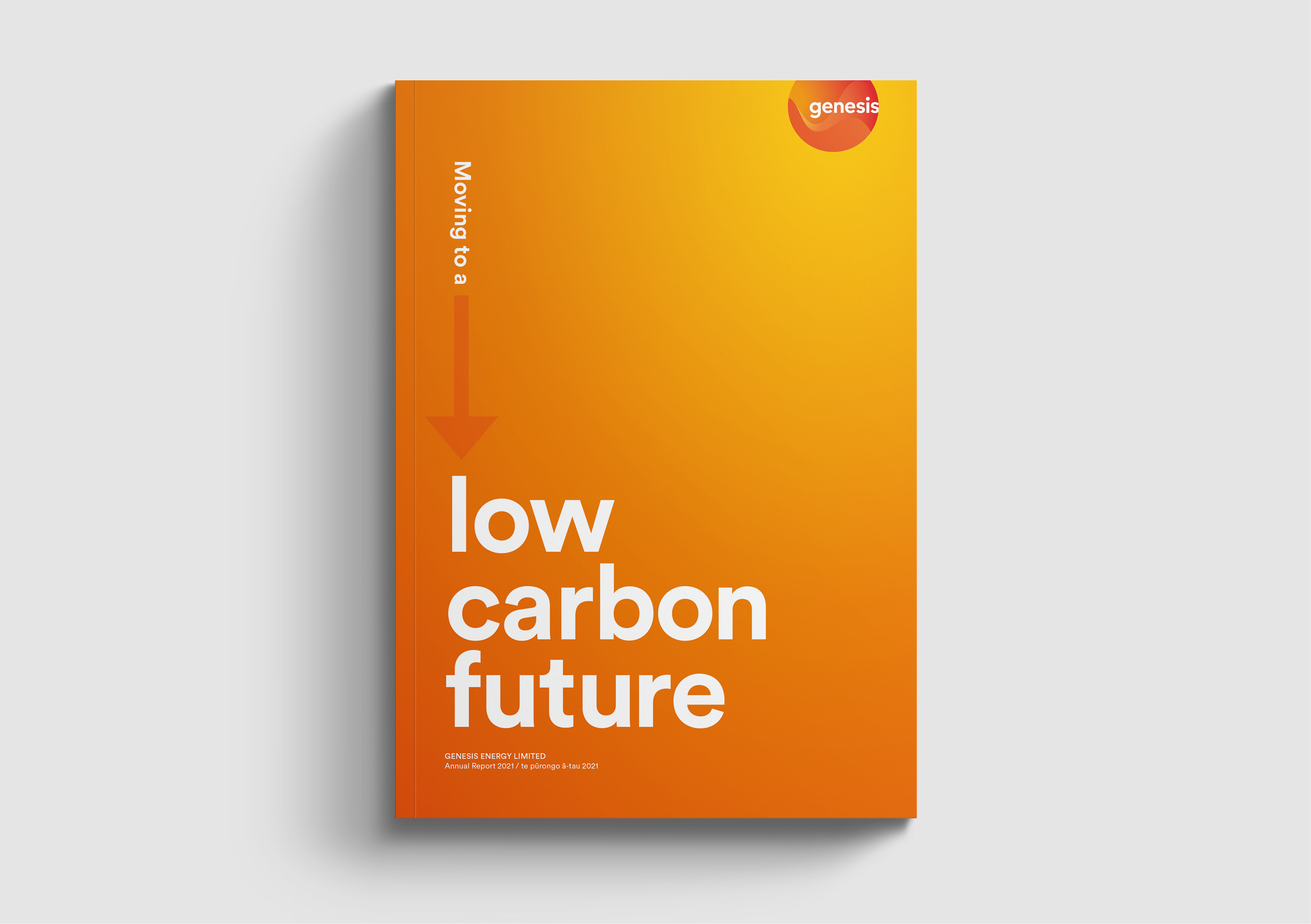 'Walking the talk' when it comes to carbon reduction is something that Genesis Energy is focused on - reducing their own impacts and helping their residential and commercial customers do the same.
The Brief
Previous Genesis Energy annual reports had been produced in-house. However, annual reporting has evolved to a complex point, with multiple stakeholders and many layers of information, to a level that specialisation and detailed delivery to specific reporting frameworks is now required. Add to this, today's annual report is a corporate storytelling document, capturing the essence of a company's evolution and direction of travel.
Genesis Energy were at this point.
The Solution
We began by interrogating that corporate story and found a powerful and cohesive strategy to enable the country to move methodically towards a low carbon future. Just as importantly, they are already implementing a series of actions to lower carbon and help their customers do the same.
Our thinking was led by the notion of 'walk the talk' informing a confident approach that feels action-orientated, urgent and energetic. Large typography was selected as our hero, used in a bold and agile way to kick the document off with pace and to put the Genesis carbon reduction story front and centre. To add further visual strength to this opening story, large impactful imagery is used in a supporting role. These images engage emotionally to tell a balanced story across people, assets and outcomes.
The use of underlined text continues to put the emphasis on storytelling and draws attention to key information and ideas. This underline approach, coupled with featured pull-out text, the bold application of block colour, and the use of large graphical icons gives the document a dynamic feel. As a result the core story pops, making it easy to digest for both those skimming the pages or for those exploring the detail.
Each of the three core enabling strategies was supported by real life examples as evidence of strategy in action. And visual layering of information helped the key messages land with the reader, whether skimming or reading in depth. Our design choices allow the bold 'talk' messages to be amplified by real life 'walk' examples as evidence of strategy in action.
The Results
The report was considered a major leap forward by Genesis, and an important first step on their storytelling journey. With another major leap to integrated reporting in their sights, this report lays the foundation for both the 2022 integrated report and for the rapidly evolving story journey to minimising and eliminating the country's last remaining vestiges of departing fuels.