Focusing staff to engage with their company
Client: Fonterra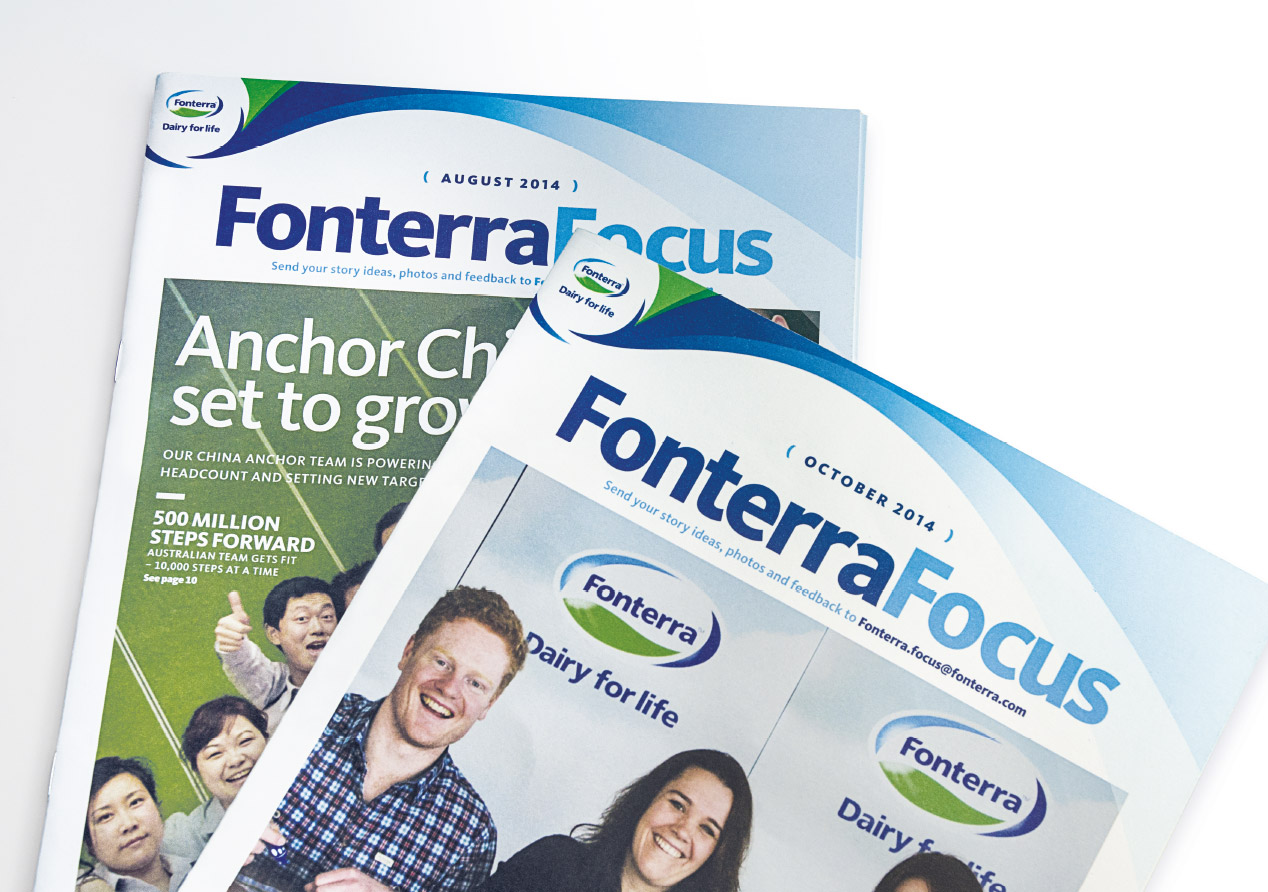 Fonterra's staff magazine strives for effective communication with over 8000 staff across the globe.
Taking a collaborative approach and testing response throughout the gestation process assured the project of success.
The Brief
As one of the largest employers in the country with over 8000 staff spread across the globe, engaging staff in the Fonterra brand and diverse business activities is a challenge at the best of times. But this becomes even more challenging when not everyone speaks the same language, or has a computer and internet connection, and where the audiences vary from farm hands, to producers, to manufacturers right through to corporate executives.
Our brief was to redesign the quarterly Fonterra Focus magazine and supporting Fonterra Site Lines insert, to make it more visually engaging – a 'must read' for all staff worldwide.
The Solution
We started the process by reviewing the audiences: where they were, how they accessed the magazine, why they would want to read it, what sort of information they were looking for and how they preferred to access it. This gave us a number of insights into how to make the design work harder.
Our recommendation was to create different types of stories of different lengths and styles to appeal to the different audience needs. We used illustrations and icons to give it a friendly and more accessible feel and to reduce the emphasis on the written word.
Fonterra tested our design ideas with core audiences and were rewarded with positive feedback. We then designed the first issue and used this as a basis for creating the magazine's style guides. A freelance desktop publisher took responsibility for laying out all subsequent issues, using our style guides. We provided an ongoing design overview, ensuring each issue maximised the opportunity to engage readers and reinforce the brand.
We are currently working with Fonterra to translate the magazine from print to online, preserving its design integrity while extending readership and engagement, and delivering cost savings.
The Results
The new Fonterra Focus delivered instant results with immediate positive feedback from staff and a noticeable increase in responses to the publication's articles, competitions and requests for feedback. Year-end staff surveys showed a significant increase in readership numbers and perceived value.