The next generation of talent emerges
Client: Whiteria and Welltec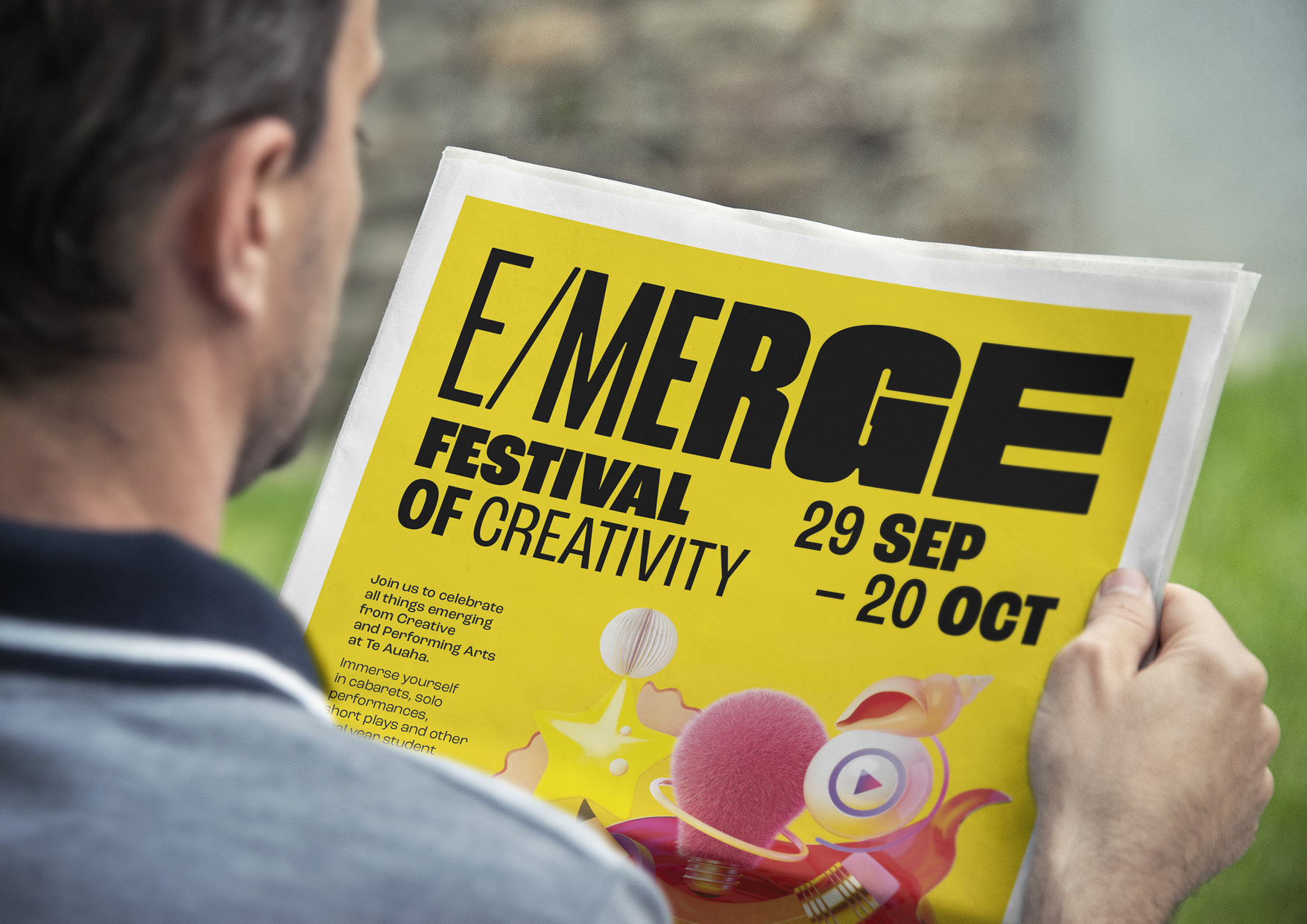 Te Auaha's creative programmes burst into Wellington's collective consciousness for a month of celebration of the next generation of emerging talent.
The Brief
We were approached by Welltec and Whiteria's downtown Wellington campus – Te Auaha – to create an identity and campaign for a festival of creativity. It's a creative celebration of the next generation of emerging talent and the merging of nine different creative disciplines. Running for a month, audiences experienced dance, music, creative writing, film, stage production, creative technology, musical theatre, and more – often coming together in ways never seen before.
The Solution
The challenge, and required solution, had two distinct parts.
Firstly, it was to create an enduring name and identity that could be built on each year, becoming a brand synonymous with Wellington's creativity and emerging talent.
A collaborative effort produced the apt name, E/MERGE, cleverly bringing together the idea of emerging talent with a fusion of creative disciplines. The design team bought the name alive with a high impact wordmark that has the potential to expand and contract, always dominating the page and the story.
Yellow and black were chosen as the brand colours, reflecting the colours of Te Auaha and Wellington but also to providing a vibrant canvas for our messages to stand out.
The second challenge was to create an exciting launch campaign creative, with serious cut-through. It needed to be hard-working and flexible to grab the attention of our many audiences, stirring a passion in existing and potential students, reenergising the creative sector, and getting Wellingtonians back in the habit of regularly supporting a vibrant creative culture.
The hero of our 2022 campaign is BlobStar (she/her), a uniquely fluid character merging nine separate items, one for each of Te Auaha's creative programmes. The objects – from the fluffy pink light-bulb through to a pencil smile – were reproduced in a 3D environment and then bought together for print and digital. BlobStar became the face of the event, dominating our overall campaign, while the individual objects spearheaded ticket sales for individual events.
The final aspect of the campaign was to create a marketing strategy to reach our audiences. Our approach was to wallpaper the city with colour. High volume street posters were reinforced by high-impact billboards and bus shelters and further supported by PR activity, eDM and street events.
The Results
We won't know for a while if our work delivered on our brand objective but we do know we drove ticket sales, resulting in many sold out shows and a festival that paid its own way. The client was delighted with the collaborative process and the buzz the work has created within the school, and within the wider sector. They are already talking about what E/MERGE could grow into next year. We're up for the challenge.