Signalling a strategic reset
Client: Comvita
2021 INTERNATIONAL ARC AWARDS - GOLD
2021 INTERNATIONAL ARC AWARDS - BEST OF ASIA/PACIFIC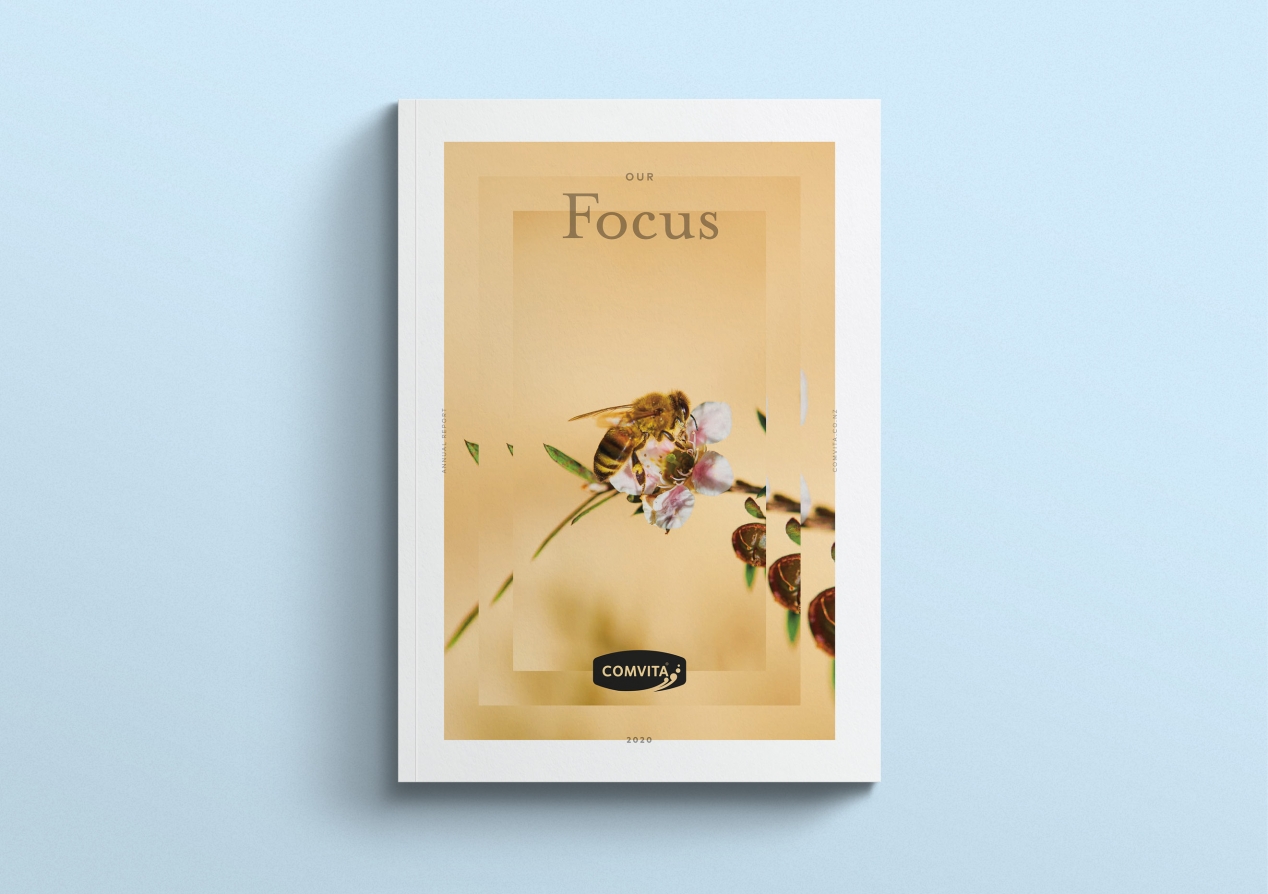 A turnaround strategy often requires a matching communication strategy to rebuild shareholder confidence. This was the situation that Comvita found themselves in this year.
The Brief
Comvita is the global market leader in Manuka honey and a leading consumer brand in markets around the world. Recent years have been beset by a series of challenges that resulted in them reporting some significant losses and distracted them from their core business. The board appointed a new CEO and approved his five year plan to turn around and transform the business. With his feet firmly under the desk, a few months under his belt, and some major actions to get the business model right, it was now time to convince long-patient stakeholders that the new strategy was sound and already delivering a strong turnaround.
The financial year end and associated annual report provided the perfect opportunity.
The Solution
David Banfield, the new CEO, knew that this report needed to send a strong message to the market and to shareholders. And that it needed to signal a new approach. And so he sought us out to deliver it.
Being new to Comvita's business, we had a lot to learn in a short space of time. We were impressed with how much had been achieved in a few short months across a wide range of touchpoints throughout the business. There was an elegant synergy happening from a cohesive strategy blueprint. We resolved that there were three key communication strategies to bring into play to make that clear and compelling:
Clearly signal a strategic shift in approach
Frank transparency and openness
Direct and accessible language and design
This needed to be a message-driven report, addressing the big picture and future plans first and foremost. Only then was it appropriate to look back at the year in detail.
Using considered sequencing and visual elements to convey the strategy and build belief in Comvita's ability to deliver on its transformation, we focused initially on presenting the three phases of the turnaround strategy succinctly and clearly. This was delivered over the opening spreads, with a visual treatment clearly differentiated from the rest of the report.
Building belief was the role of the Chair and CEO. The platform we recommended was a direct and frank long-form Q&A which asked the hard questions and delivered full and transparent answers. With that 'facing reality' section dealt to, the balance of the report could change gear to signal a content change: recording the previous year's activities and achievements with matching openness.
Clear hierarchy and wayfinding navigation allows the report to move at different paces depending on the informational needs of the reader. Layering the content with strong and engaging headlines, callouts and infographics allows high level information to be absorbed quickly.
The visual execution gave distinct clues to the three-phase strategy for recovery, as well as reinforcing the overall message of 'refocus'.
The Results
The final report communicates clearly and strongly. And in the words of David Banfield: "We have received some very positive feedback from shareholders and the team as we start our journey of transformation at Comvita."