Making Auckland the world's most liveable city
Client: Auckland Council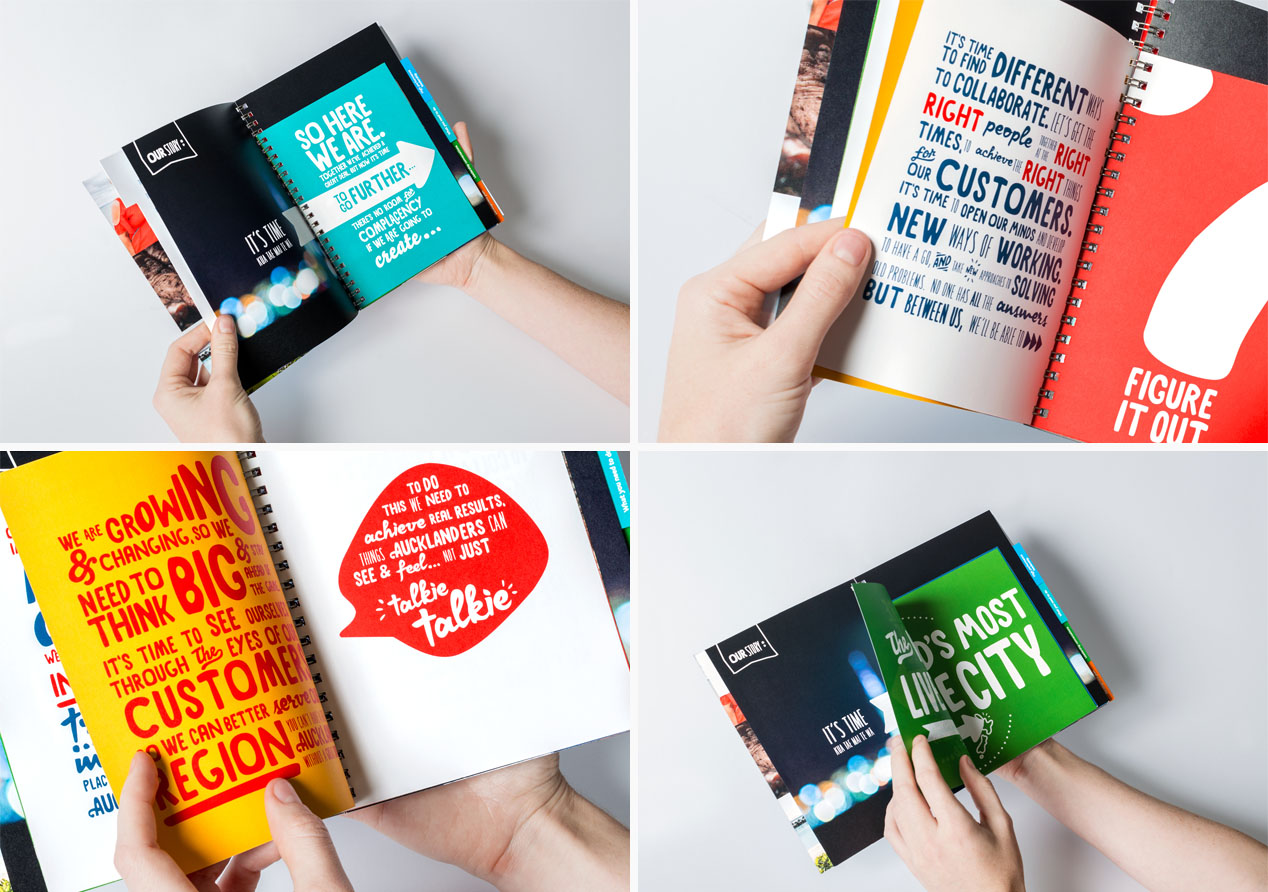 Already ranked the world's third most liveable city, Auckland's goal is to lead the international rankings.
To get there, Auckland Council need to harness the power that is their own workforce. And to do that they know they need to engage, influence, inform and inspire their own leaders.
This leadership compass toolkit successfully launched the leadership framework to the Council's leaders.
The Brief
Auckland Council needed a new, engaging communications programme to influence, inform and inspire their leaders towards the ultimate destination, making Auckland "The world's most liveable city." After all, you can't have a great Auckland without a great council, and you can't have a great council without great leaders.
The lead element in the staff engagement programme was a roadmap for a year-long leadership development programme – a conversation kick-starter and an engaging planning device, prompting leaders to explore their passions, hone their skills, set their intentions and inspire their teams.
The Solution
Kiwis are known for their pioneering spirit. The modern-day Auckland Adventurer needs a trusty compass to discover true north, show them the way and guide them back on course whenever they stray.
The leadership compass takes the form of an A5, ring bound notebook. But don't let its ordinary outward appearance fool you. For like Auckland Council, there is much more going on behind the scenes. Large, graphic arrows direct and navigate the reader through the pages while hand-drawn dynamic type is the voice, ranging from calm, clear and precise, to ecstatically loud, proud and energetic. It encourages, coaches and, when necessary, commands action. The bright, diverse suite of colours were derived from Auckland's vibrant melting pot of cultures and unique landscape. Photography captures Auckland's people, places and textures, with unexpected crops and angles to show a different, less cliché, view of the city. A smaller 'book within a book' approach was selected to add real emphasis to the vision leaders are driving towards.
Understandably, councils have lots of structure. There is a lot of black and white, straight lines and order, so for this communication to have maximum impact it had to be the complete opposite. We needed to bring the colour, the bold, the loud and the energy to spark a change. The disruptive qualities immediately cut through, telling leaders that this programme was more focused, more dynamic and a whole lot more passionate – an inspired metaphor of how to approach their own leadership development.
The Results
CEO, Stephen Town, said "this is how all our communications should be" and so it has become. The compass, along with its supporting launch materials, didn't just successfully launch the leadership framework to leaders, but sparked a new way of talking to, and inspiring, their people.