Building a better future
Client: Auckland International Airport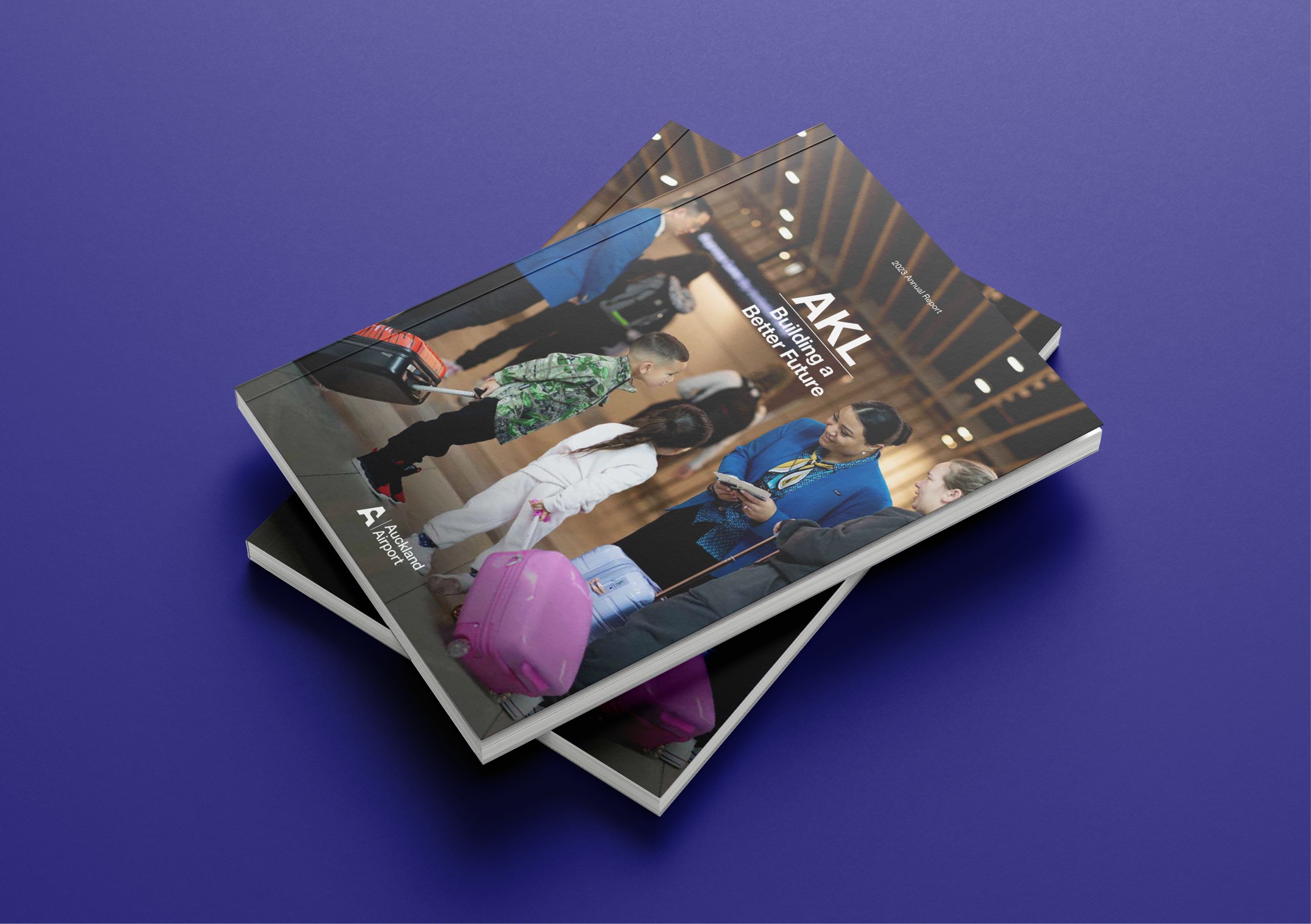 With huge infrastructure investments underway and a new strategic plan to launch, this year's report was pivotal communication for Auckland International Airport.
The Brief
This was a big year for Auckland International Airport. The recently appointed CEO announcing her new far-reaching strategy for the aviation precinct. The post-Covid financial recovery in full swing. And the recommencement of its most ambitious building programme in decades.
Our report needed to capture both the excitement of the changes afoot for travellers, and the interconnected strategic thinking behind them.
The Solution
In many ways, this was a strategic reset for Auckland Airport and the content that was available for this year's report was now fully formed and ready for publication. However, the core of the brand's essence was still about the travel experience, ever-mindful of the emotional connections involved. Accordingly, the cover and opening spreads visually reinforced human connection, while the accompanying messaging clearly set the scene for the new strategy: 'Building a better future'.
After the obligatory performance information and scene-setting from the Chair and CEO, the new strategy was outlined in depth, setting out the five broad streams of activating that better future: A thriving enterprise that enables a vibrant commercial environment; an empowered community that contributes to the wellbeing and growth of local people; seamless connectivity that streamlines the travel experience; long-term enduring infrastructure for the future of the end-to-end travel experience; and future resilience that builds a sustainable legacy that benefits future generations.
This section both outlined the intent of these five foundations and provided details of the strategies being put into action. It was clearly differentiated within the report by utilising colour, supporting illustrations specific to this strategy section and relevant images supporting the case studies.
The Sustainability section of the report was a big consideration, particularly in light of January's floods. We clearly reported back on progress of the Sustainability strategy introduced in 2022, and incorporated the latest requirements around climate change disclosure and greenhouse gas emissions.
Throughout the report, imagery was used strongly to tell stories of connection with people, as well as the important infrastructure planning and progress stories.
The Results
The team at Auckland Airport expressed delight that their multitude of key messages were so clearly conveyed, as well as the smooth process to get to profit announcement day successfully.