Iterating an effective solution
Client: Sanford
GOLD: 2016 INTERNATIONAL ARC AWARDS
WINNER - INTEGRATED REPORTING AWARD: 2016 ARA AWARDS
WINNER - SUSTAINABILITY REPORT OF THE YEAR, PRIVATE SECTOR: 2016 ARA AWARDS
SELECTED: GRAPHIS ANNUAL REPORTS 2014 - 2016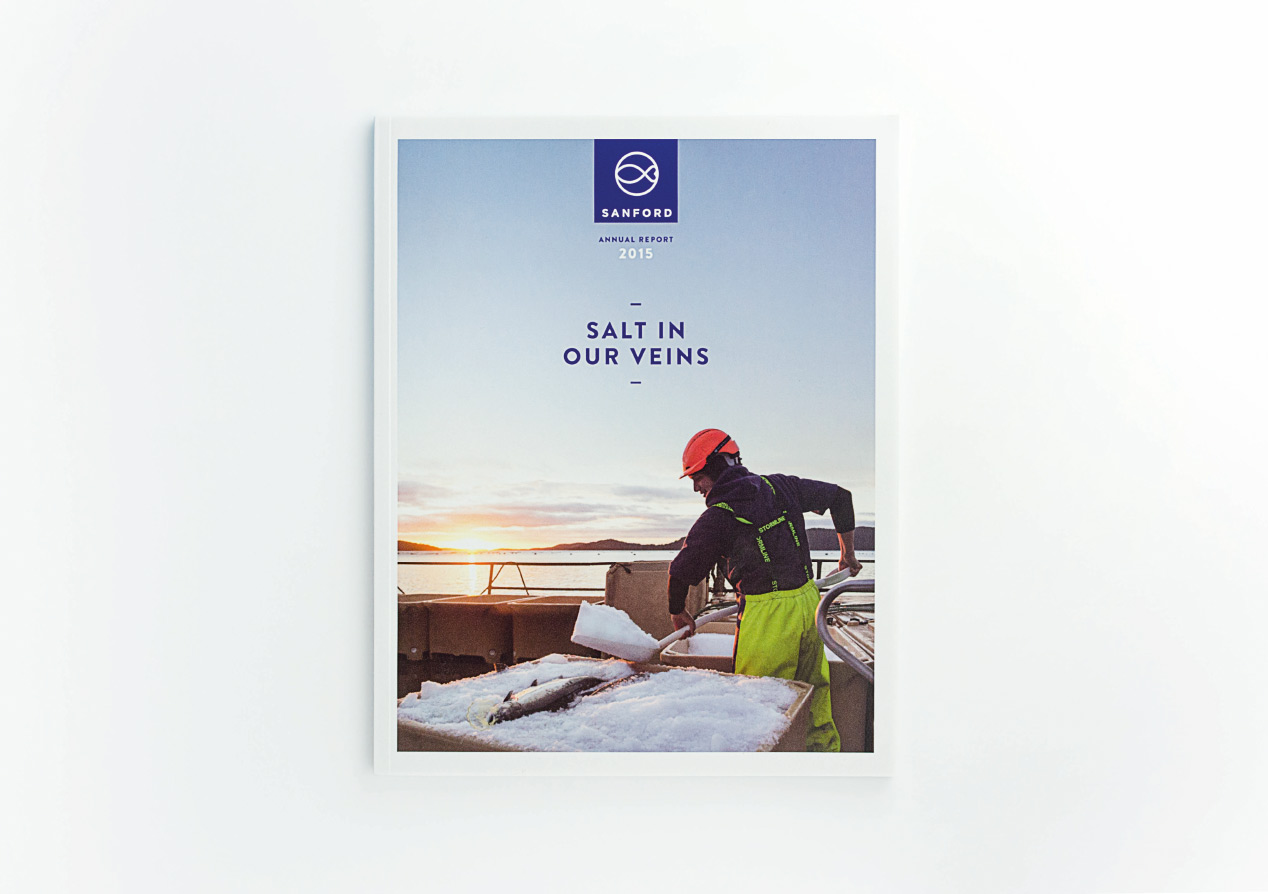 A year on from Sanford's first Integrated Annual Report, the learnings are applied to improving the second.
With a new visual identity and clearer vision and values, the stage was set to refine last year's highly successful report.
The Brief
The challenge laid down this year was to at least match the breakthrough success of the 2014 report, while incorporating the content learnings from that epic establishment effort. And a new branding programme meant shifting the design elements to align with the new vision, values, brand promise and visual style.
The Solution
From last year's 'How we see the sea', we continued our strategy of really exposing the genuine and very human soul of this wonderful company. This year's theme of 'Salt in our veins' celebrated the passion that Sanford people have for the industry sector they have been drawn to. And it also celebrates the care and respect with which the company's people harvest and handle their catch in order to offer the world 'Beautiful New Zealand Seafood'.
The soul messaging is, of course, well supported by factual, material evidence, and tells a very detailed and transparent story about how the company creates value for all its stakeholders – it is this inclusiveness and 'dot-joining' that marks a true Integrated Report from a standard, more financially and operationally focused Annual Report. By identifying the key areas of the business that create the most overall business value, Sanford's business plan focuses on four areas: Optimising the value of the quality resource that they harvest; Enhancing their brand's reputation and truly living their values through their passionate people; Consistently producing seafood of the highest quality; and creating a work culture of Innovation and customer service. And it is these four areas that sit at the core of the detailed reporting in this document.
One of the design challenges of any report that takes sustainability and transparency seriously is dealing with the volume of data – presenting it clearly and visually, while keeping the pace of the document lively in the face of that volume. This report illustrates the value of highly considered page and component design and beautiful crafting. The result is a highly engaging piece of communication which conveys an enormous amount of quality information.
The Results
After the significant 2014 upgrade, CEO Volker Kuntzsch stated: "The report has received so many positive responses that we may find it challenging to live up to expectations at the end of this year." The company has firmly lived up to the promise of that report, and the new report has helped cement belief that the company is genuinely on a new, exciting and consistent path to becoming a better understood, even stronger and more sustainable business. Further praise comes from the CEO of the International Integrated Reporting Council (IIR), Paul Druckman, who expressed the view that this report was one of the best integrated reports yet published anywhere in the world.