Expect More
Client: Ravensdown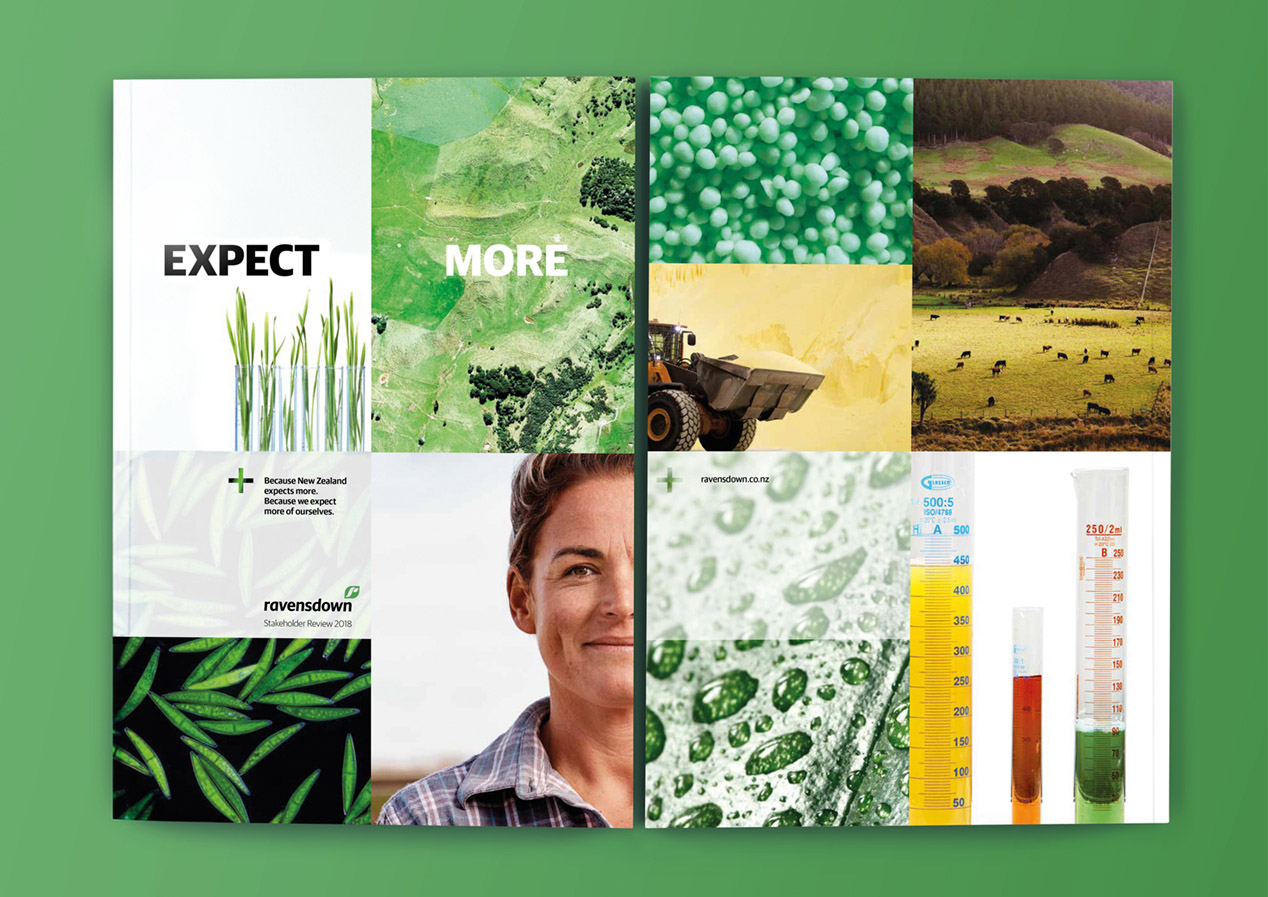 Following up on 2017's annual report was always going to be a challenge.
The prior year's report had been a major repositioning and perception shifting exercise, and the follow up report to such a reposition exposes whether last year's optimism and intent had been delivered on.
The Brief
Fortunately, Ravensdown had been working hard on implementing their crisp and clear business strategy. The previous year's framing of an integrated reporting way of thinking could now be backed up with evidence and proof points, data and stories of the journey.
Our task was to convey that step up with straight-up messaging and no-nonsense design.
The Solution
Whereas the 2017 report had been about communicating a new way of thinking and outlining intent, this year Ravensdown had implemented many of their strategies and begun seriously collecting the data to track their progress.
But no matter how much Ravensdown had already achieved, their long terms goals were way higher. They know that the agri-sector has to change its ways quite dramatically, and they see their role as an active catalyst in that journey. They know the country expects more of the sector, they exhort their customer shareholders to deliver more in environmental care, and Ravensdown expect more of themselves. And that became the underlying message of this year's report.
Ravensdown is a co-operative connected in countless ways to food production in New Zealand. By focusing on smarter farming, Ravensdown has set out to be a game changer, breaking new ground with information, technologies, research, data, people and products; setting high expectations and working towards achieving them.
Having set up the self-addressed challenge to 'Expect more', the report then sets out to explain the specific challenges they are setting themselves, with chapters on 'Earning the right to lead', high quality 'products that fuel food creation', the collective hunger of their 'people with ambition for better', their investment in 'Game changing science' and breakthrough 'Technology that enables smarter farming'. The content delivered in each chapter was data-rich to enable readers to hold them to account on their ambitions and included human case studies that provided tangible evidence of their commitment to deliver.
The Results
Delivered as a Stakeholder Review, an accompanying compliance Annual Report, and an online microsite with additional video content, this is unashamedly a storytelling report, with the stories well backed up with empirical evidence. And those data points are heroed through the design. This is a report of real substance, especially by comparison with some others in the same sector. Ravensdown staff are a key audience for this report and feedback tells us that this crystallises and reinforces what's expected of them, and in so doing, lifts morale, creates a strong sense of common purpose and engenders a distinct element of pride.