A timely pivot
Client: Property for Industry
2023 INTERNATIONAL ARC AWARDS - BRONZE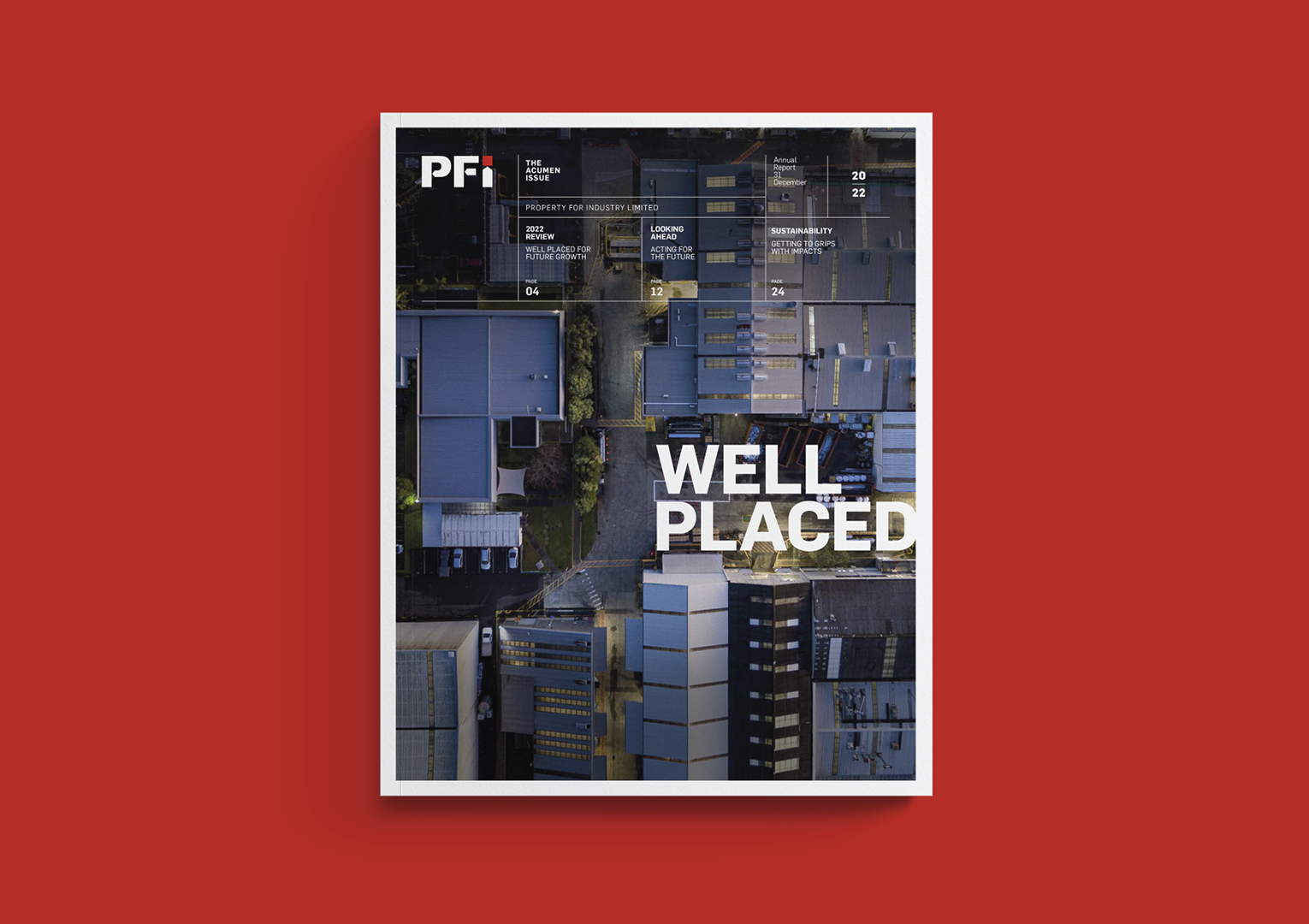 The property economic cycle requires different strategies at different stages. Property for Industry embraces that within a stable and consistent strategic framework.
The Brief
While consistency and stability are the DNA of PFI, market shifts still require tactical agility. Market conditions post-Covid had seen industrial become the sweet spot in the property sector, pushing prices higher and wise acquisition opportunities lower. PFI chose to use this time in the property cycle to improve the portfolio they had rather than add to it at uneconomic prices. They were also taking the opportunity presented by less frenetic conditions to reshape their structure for planned future growth.
This year's report needed to explain these shifts while keeping the faith of their trusting investor base.
The Solution
Messaging was carefully crafted to convey PFI's evolving story against a bedrock of stability and future focus. Labelled 'The Acumen Issue', the unfolding stories underlined PFI's steady wisdom in building the business, brick by brick, over time with total clarity. Stories focused on brownfield opportunities within the portfolio, adding immense value to existing holdings. And also on internal changes which mark substantial leaps in service capability such as their new internal facilities management team.
The introduction of a section focused on the industrial property environment advances shareholders' mindset beyond year-on-year to a long-term strategically-led organisation.
At the same time as talking about doing things differently, the design considerations supported this depth through clear typographic boldness and consistency in approach: all caps, singular word line breaks and delicate use of hierarchy. This visual confidence is also supported in the layout where each element is well balanced, easing the reader's eye across denser editorial styled copy through the use of white space to punctuating pull quotes and key infographics.
Image selection, such as drone images of sites prepared for development, reinforce a well-planned programme reflecting PFI's $2 billion scale. Images that demonstrate momentum and multiples also help to create a sense of discernment and commitment to future-proofing the business.
Sustainability and green building have firmly taken hold within the listed property sector and PFI are no exception. In recent years their approach has matured significantly with more measurement data on the results of their sustainability framework and initiatives becoming available. To ensure this important aspect of their business strategy isn't perceived as less important because of its later positioning in the report, this section is highlighted through design techniques. Reflective of the magazine style approach of the entire report, the ESG section employs techniques such as shortened and tinted coloured pages, a typographic shift to create a sense of reporting focus and navigational assistance. To support the content, it also features a number of key infographics to assist readers in digesting the report.
The Results
The 2023 report is our eleventh consecutive report for PFI and the consistency gives reassurance to stakeholders. Their feedback also assures us that we are delivering the information they seek in a very accessible way that provides a comfortable familiarity while always evolving to reflect the growth and solidity of the company itself.