Delivering expertise
Client: NZ Post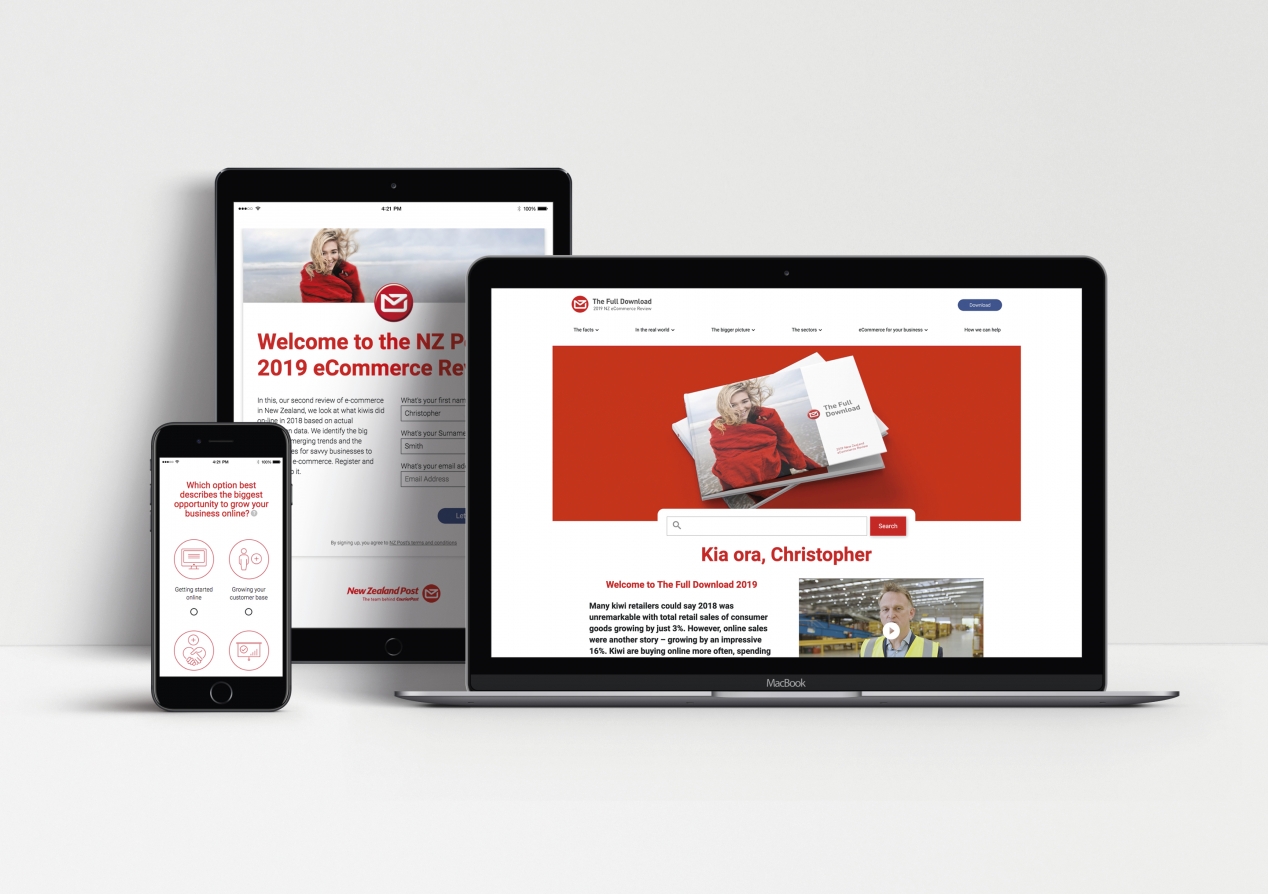 Given NZ Post delivers more on-line shopping parcels than any other courier company in NZ, it makes perfect sense that they'd position themselves as the experts in this space.
The company who knows all about delivering asked us to deliver their second eCommerce report – The Full Download 2019 - in a way that supports and enhances this positioning. And it took all our expert design thinking to achieve it.
It seems only natural that a report about eCommerce should be online and our first strategic recommendation was to move to a digital-first approach, with print as the supporting medium. The client provided us with endless data spreadsheets and a summary of the key trends story to be told. We used these to create a series of animated charts and to determine the site (and book) structure. The next challenge was writing an easy to follow, conversational and 'bite-sized' narrative that worked equally well on-line as it did in a book.
The design idea was to capture the look, feel and functionality of good online shopping sites, like Amazon, Alibaba and Mighty Ape. This included tailored content; product promotion style navigation; a prominent search function; 'you may also like' recommendations; and shopping-cart styled downloads. This is complemented by the generous use of white space, engaging photography, icons and featured stats and information. All these same design features carry through to the print document, giving it a strong visual presence and a high sense of pace.
While the first-edition of the Full Download focused on factually reporting on data trends, we wanted the 2019 edition to use data as a basis for telling richer stories and providing tools and advice for businesses to optimise their online activity. A series of video case studies and expert interviews highlighted the key trends in action, shoppers' motivations and expert advice. Live polls allow users to interact with the site and to receive valuable contextualised information.
Another of our key strategic recommendations was to build an engagement process around the online report. Visitors to the site all need to go through a registration process, answering a few key questions about their business sector, size and challenge. This feeds a 'just for you' personalised content section on the home page. It also provides significant business value-add by integrating directly into NZ Post's CRM system, facilitating an on-going sales and marketing communications programme.
Writing, designing and producing an 100+ page book, a complex sales website, six videos, an animation, two polls and a seamless sales integration process is a big challenge we enjoyed rising to. The best way for NZ Post to say experts is to display it and we think this integrated report does exactly that - in a big, bold way. The client is delighted with the outcome and are actively and proudly promoting it. And the targeted business audience also agrees, praising the site and book for its usability, its value-add information and its clever design.