Suite evolution
Client: Fonterra
2023 INTERNATIONAL ARC AWARDS - BRONZE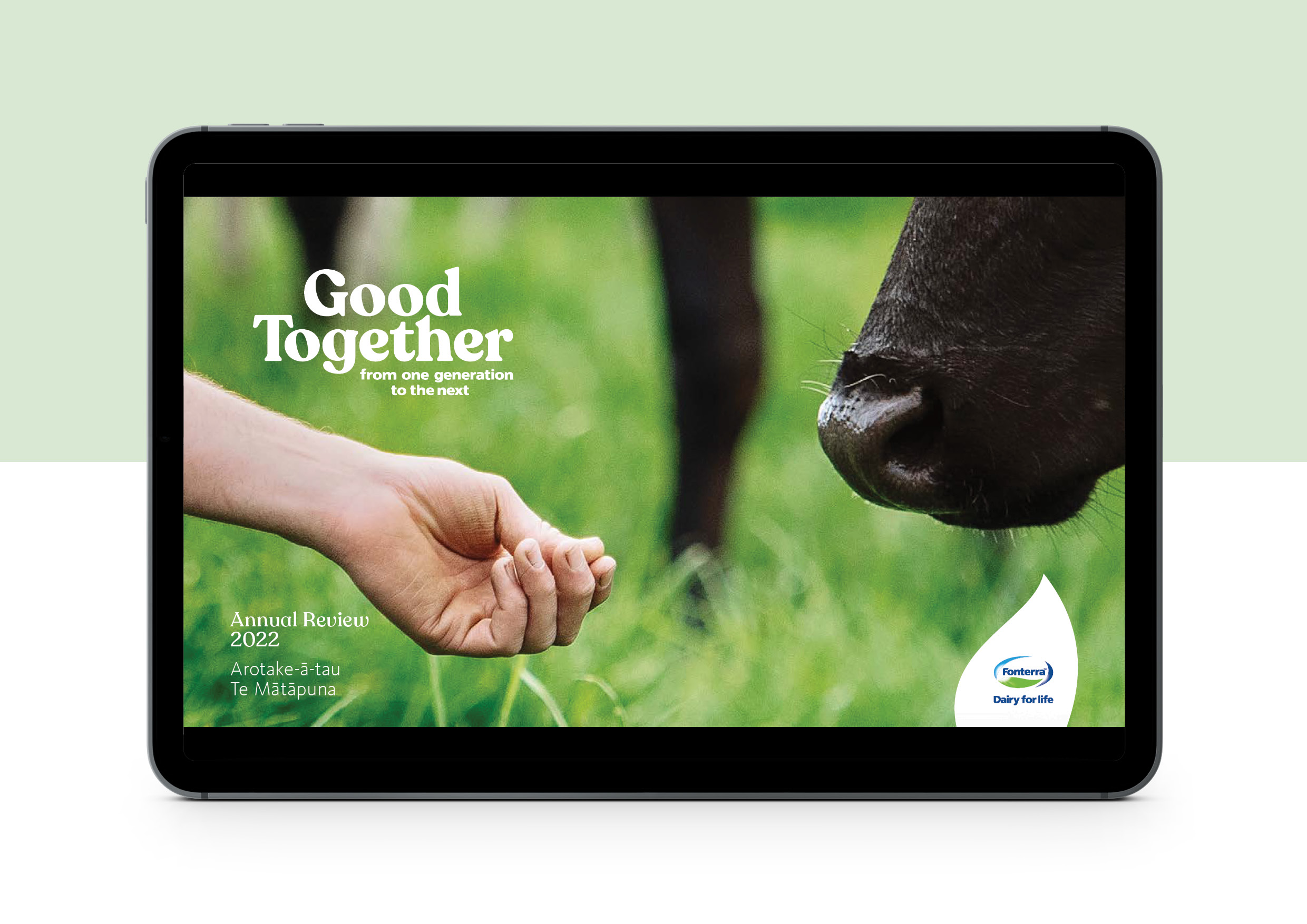 A comprehensive suite of reports to meet the needs of a broad range of audiences.
The Brief
With a well established and effective formula established in 2021, and a very different long-term aspiration for the business still being bedded in, continuity and consistency was considered the most effective direction for the 2022 report suite. But of course, gentle evolution was called for too – both to reflect the business' progress on their new strategy, and to incrementally improve on the communication effectiveness and usability of the reports.
The Solution
After reviewing the pros and cons of last year's seven reports, it was decided to continue that principle as it enables a crisper value creation story for each identified stakeholder group, while not clouding the bigger picture narrative the Annual Review adopts for more general audiences. This 'core' document also continued to meet the guidelines of the integrated reporting framework. The supplementary documents provide clear performance disclosure across a wide range of measures: financial, sustainability, corporate governance & statutory information, business performance and the milk price statements. As a suite, they deliver fully integrated, cross-referenced storytelling.
After strong market acceptance of the 'digital-first' approach taken for last year's sustainability report, we moved all reports to this treatment. It is a screen friendly landscape format, and this year we enhanced it further in the Annual Review and Sustainability Reports particularly with clearer navigation and hyperlinks (afforded by the digital format), both within and between the various reports. This hyperlinking also advanced <IR>'s encouragement of information connectivity.
Creatively, we strove to convey the new strategy even more clearly, and the reporting back on progress markers certainly reinforced the strategy's aspirations and potential.
The covers and opening spreads are important to attract attention and they begin the storytelling by capturing the farming spirit, celebrating the farmers visually doing their daily work. They all feature a tight, intimate crop of an activity while the opening spread looks at the same scene from a broader viewpoint, providing context for the reader. These opening spreads also address the 'suite' nature of the reporting, showing all covers and explaining to readers clearly what they could expect to find in each document. The digital versions also provide direct hyperlinks to each to make it easy for readers to find what they are looking for.