Fonterra's healthier business approach
Client: Fonterra
ARA AWARDS 2021. BEST OF INDUSTRY SECTOR: RESOURCES & PRODUCTION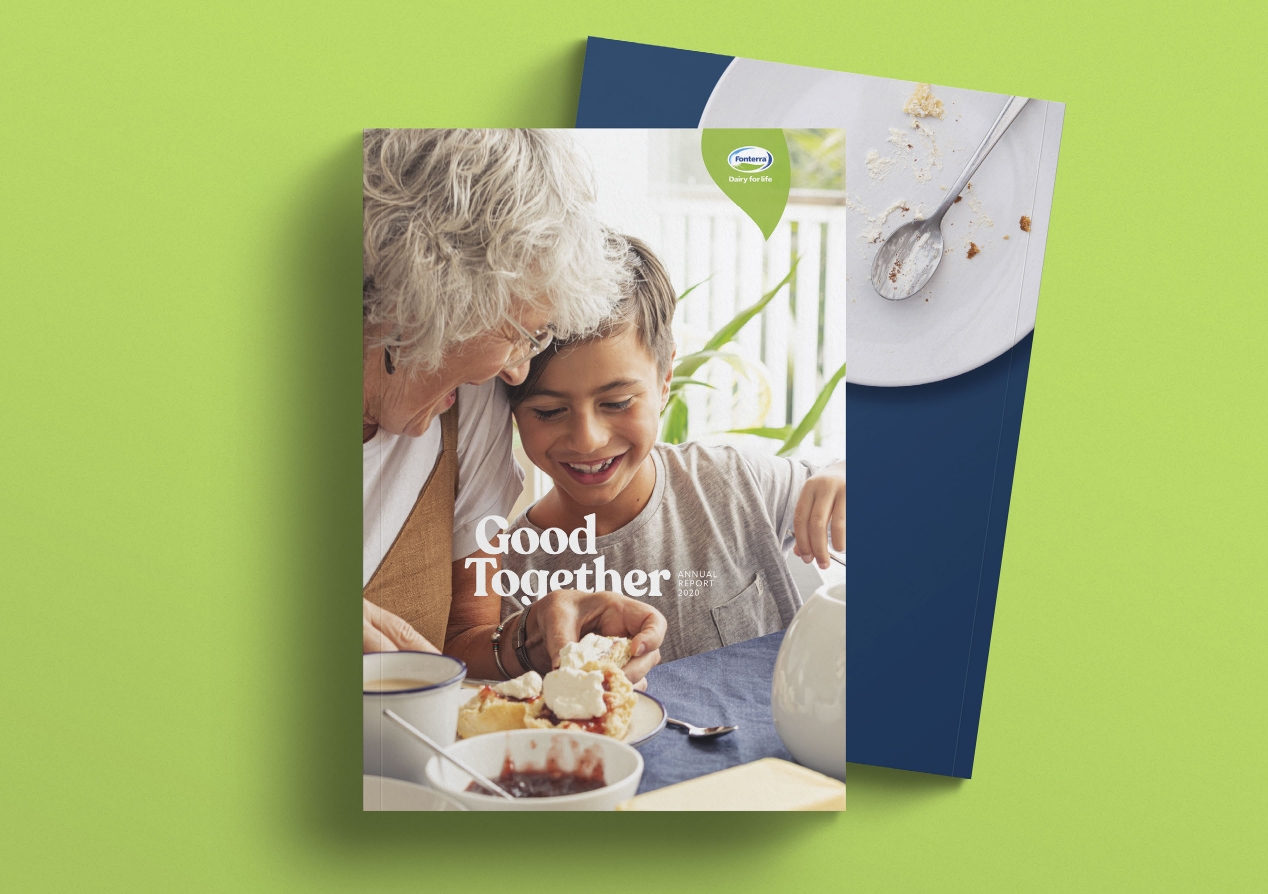 As one of New Zealand's most important businesses, Fonterra's strategic reset is of vital concern to all of us. The annual report needs to tell that story clearly.
The Brief
As Fonterra approached the end of the first full year of their new strategic plan, it was time to update stakeholders with a progress report and a reminder of the new intent. The reset fundamentally changed previous strategy of volume and global scale to one of New Zealand centred sustainable scale, and a more balanced focus on a healthy environment and healthy people as well as a more healthy business. Bringing that balance to the forefront of the report was a clear starting point as it told a more holistic view of the business while making the report relevant to a wide range of stakeholders.
It was also clear that Fonterra were looking for a step up in brand representation and improved process and project management.
The Solution
As is often the case, we found the solution in the strategy itself. Taking a storytelling approach, we articulated the healthy environment, healthy people and healthy business aspects of the business as three inter-related parts of an integrated whole, built around an overarching story arc of 'Good Together'. This also had deliberate overtones of celebrating Fonterra's employees and how they stepped up through the challenges of Covid-19 lockdowns.
The storytelling followed through into design, where the essence of collaboration and connections were manifested visually. Immediately apparent is the use of hero brand imagery showing staff united, farming communities working collectively and consumers enjoying products together. Essential to this was the captioning and naming of each individual within the greater Fonterra whānau. Finer details also flow throughout, connecting the images with rich content by using visual techniques such as the layering of colour information panels and typographic interaction of headlines with photographic content.
The Results
Our client reckons they got more than they bargained for. Looking for a stronger process and a more positive working relationship than their previous design agency was providing, they were most complementary that we had delivered fully on that score. The greatly improved design cohesion and aesthetic was almost an added bonus for them.
This annual report was the first of five associated documents produced in quick succession, and which also included a sustainability report.