Sometimes being different means being yourself
Client: Deloitte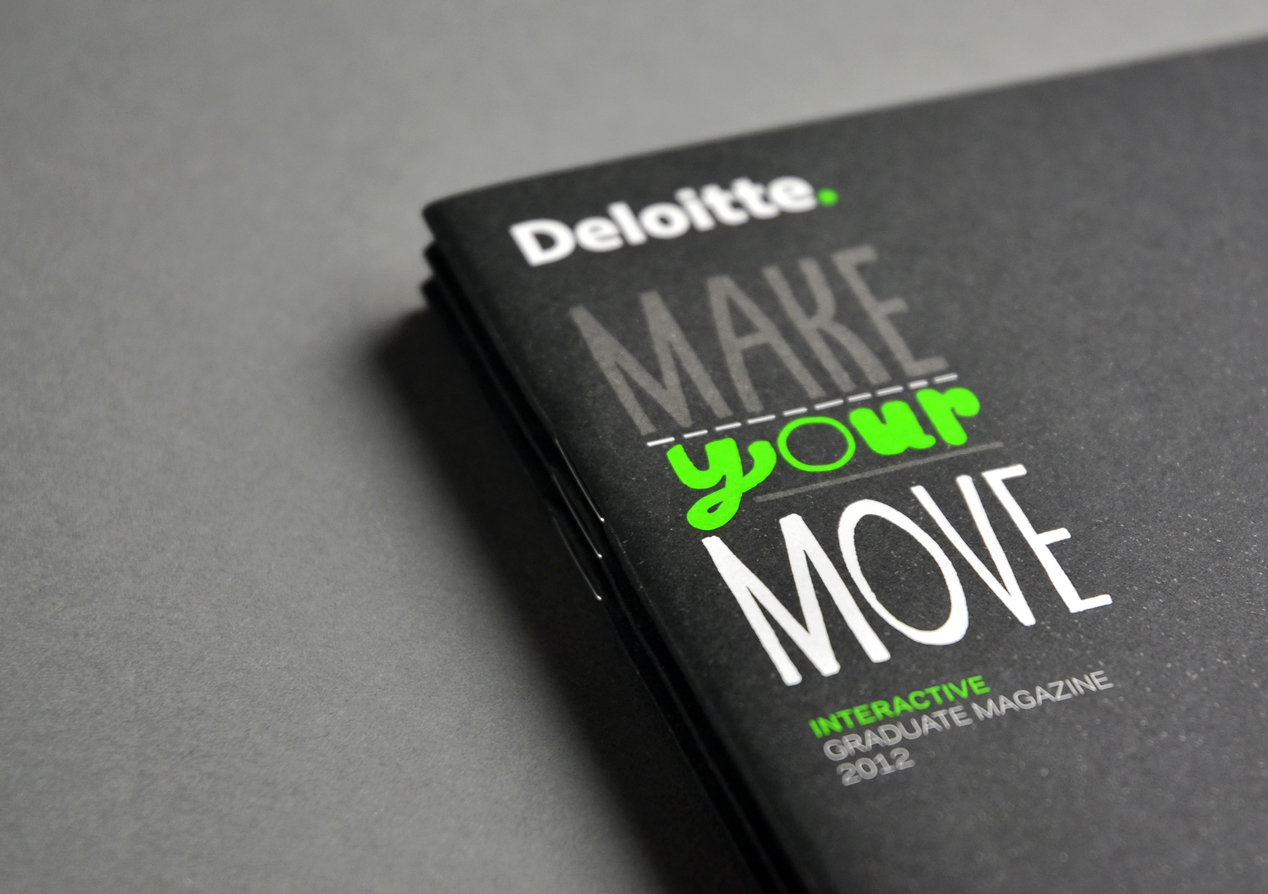 In March each year the professional services firms actively compete to attract the brightest and most well-rounded individuals our universities have to offer.
How do you engage an audience who prefers to connect in a real way with their peers? Simple, give them what they want. As an early-adopter, Deloitte was one of the first to embrace social media in their graduate recruitment. The challenge in 2012 was to continue to differentiate them now that social media has become the norm.
The Brief
For several years now we've helped Deloitte attract the highest calibre of graduates and summer interns through our work on their graduate recruitment campaigns. Deloitte embraces technology and new social trends well before most organisations and have the awards to prove it. They were one of the first to support their graduate recruitment brochure with an active social media presence. The brief for the 2012 campaign was to fully integrate on-line and off-line in order to differentiate Deloitte from other professional services firms also using social media.
The Solution
The graduate magazine, which traditionally took the central role in the campaign, played more of a teaser role in 2012, guiding audiences through an on-line experience. By scanning QR codes, audiences were driven from the pages of the magazine to the web to watch YouTube videos of real graduates talking, unscripted, about their Deloitte experience. The target audience was then able to engage in a one-on-one conversation with each graduate through Facebook.

Another new element in 2012 was the development of an infographics system. Recognising that potential graduates are bombarded with masses of information from each of their prospective employers, we developed an effective way to make Deloitte's key information succinct, visual and truly memorable.

Our design worked in an integrated way across the printed magazine, photography and video, Twitter wallpaper, web and tablet animations and the display materials used at careers fairs.
The Results
The team at Deloitte has been delighted by both the quality and quantity of candidates attracted by this years' campaign - they truly did have the cream of New Zealand's graduating talent to choose from. Feedback from graduates was also positive with many indicating that the campaign made Deloitte stand out as 'the employer of choice' from other professional services firms.