Remember our Earthquakes
Client: Canterbury Earthquake Recovery Authority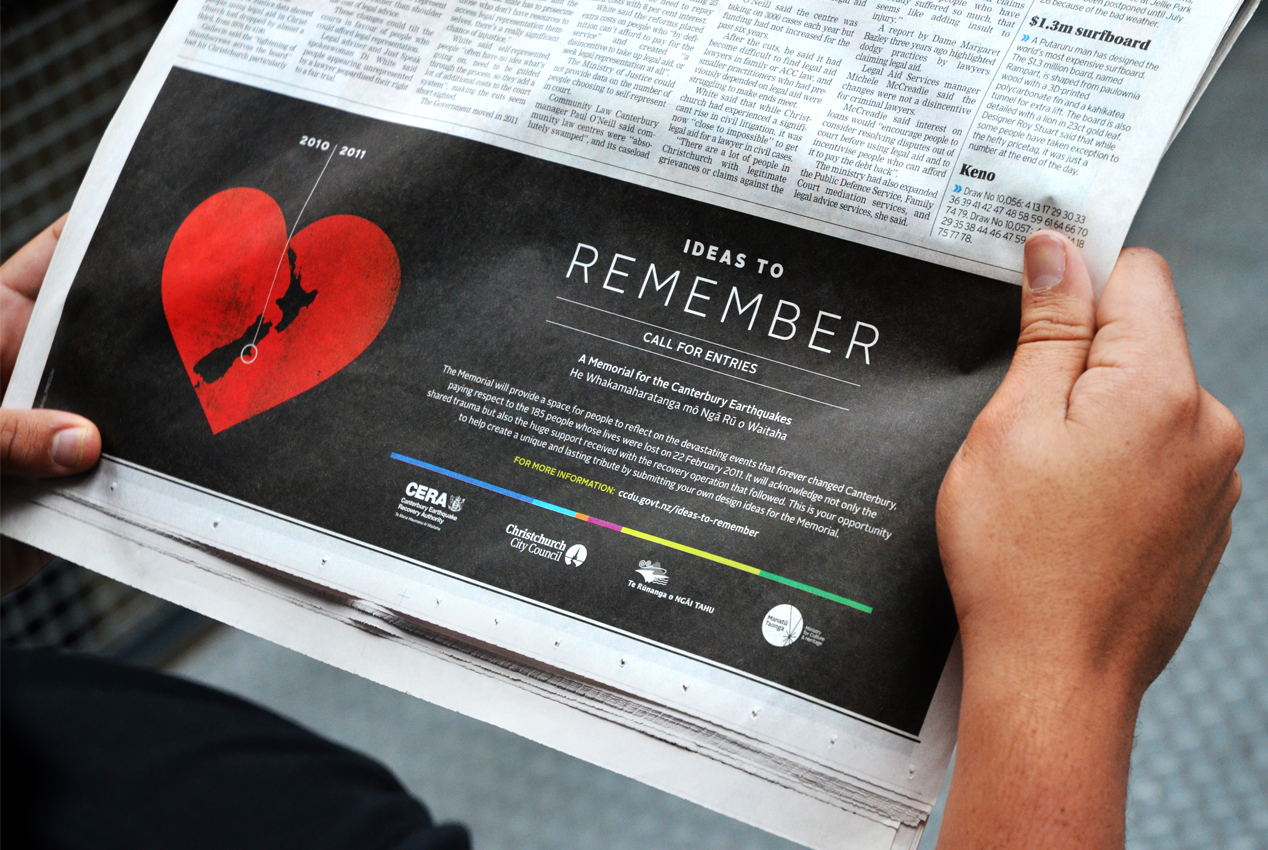 After the devastating earthquake that hit the Canterbury region on 22 February 2011, CERA and its associated partners wanted to create a lasting memorial, a place for remembrance and a place for reflection. 
An international competition was to be held for the Earthquake Memorial design. This required a positioning of being a desirable competition to enter and a brand identity that captured the emotional essence of this project. The number, and quality, of entries elicited was an outstanding 339 from 37 countries.
The Brief
While the competition was a global one, locally we needed to engage an audience already over-saturated with communications and emotionally drained from the plethora of earthquakes. Our communications had to encourage participation from families of the deceased and injured, design schools, artists, landscape and architectural design companies and the general public, locally, nationally and internationally. No small ask.
The Solution
Graphically striking elements created a device that fast became iconic. Red and black reverberated local Canterbury colours while the emotion of a heart embracing the stricken country and city had international meaning.
The Results
The emotion evoked from this work created awareness of the campaign and the strong call to action encouraged response way beyond the high expectations of ourselves and of CERA. These targets for success were 100 submissions with 10% of them from overseas.
In fact, the 'Ideas to Remember' website had over 20,000 visits in just over a month, prompting 2299 downloads of the Expressions of Interest booklet. This resulted in a total of 1012 registrations of interest from 74 countries, which in turn led to 339 actual design submissions – 49% of which were from 36 countries outside New Zealand.
Six designs were shortlisted and the winning design, from a Slovenian architect, has now been erected and was officially unveiled on the sixth anniversary of the devastating quake.