A rebel brand
Client: Breadcraft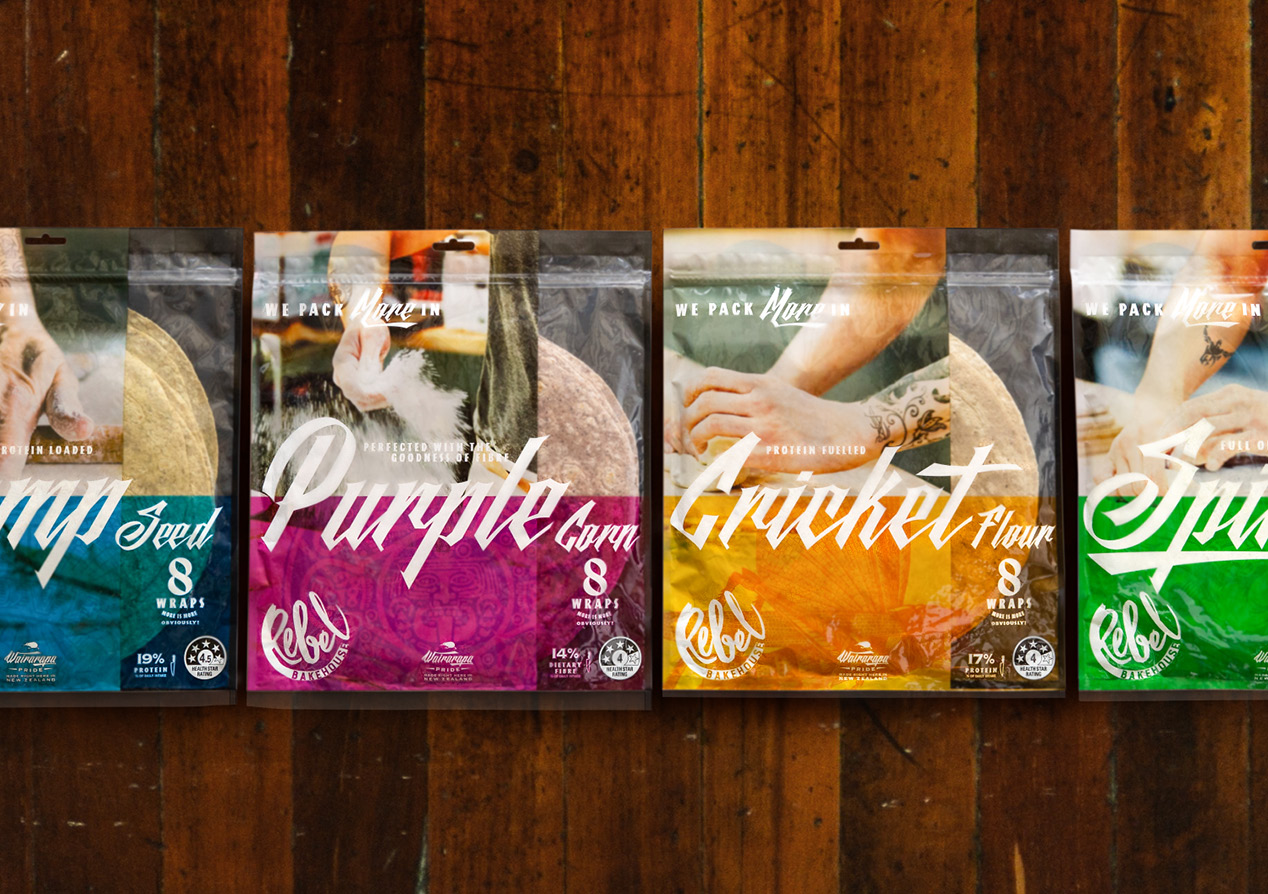 An audience with attitude informed this brand, and the brand inspired an innovative product idea to become even more rebellious.
Wairarapa's finest bakers, with a passion for doing things differently, approached us to help them take their new range of wraps to market. Made with unique ingredients, the aim was to appeal to a wide audience who want healthy, tasty and interesting flavours.
The bread category in general has seen a lack of genuine innovation over recent years. As consumers are continually looking to choose healthier options, they are heading towards wraps so Breadcraft's aim when releasing the new Rebel Bakehouse brand was to produce a genuinely healthier product to satisfy this consumer demand.
Through research we identified that our target audiences shared an independent spirit, shunning convention to make their own calls about what flavours go together. And this rebellious persona became the cornerstone for our brand strategy and story, and the development of the Rebel Bakehouse name.
The logo quickly took shape, capturing both the rebel attitude and the shape of the wrap. We then worked through the development of a crafted visual identity that allowed the rebel story to come to life. Bold colour, individualised typography, tattoo-inspired graphics and hyper-real photography become the core design elements used to complement a bold tone of voice.
The client became very excited with where the Rebel brand was heading, encouraged by positive feedback from their channels. As a result, they asked us to hold off on further design development while they tested ways to make the product even more true to its name. And we are glad they did, because as they researched ingredients that could achieve this, they stumbled across cricket flour for its macro nutrient and protein content, then hemp was found for its omega, fibre and protein content. In addition to spinach and purple corn, these super interesting alternative flavour sensations are also good for you and good for the planet.
Turning an attitude-led brand concept into effective packaging design is always a tough challenge. Our aim was to differ dramatically from what everyone else in the segment is doing. Our design boldly expresses the brand attitude, looks appetizing and leaves shoppers thinking about what is in the wraps as opposed to what to do with them, as most consumers now have a good idea around how to use the product.
We supported the release of the Rebel Wraps with an engaging website designed and built to express the rebel attitude, using sumptuous photography and interesting recipes to draw audiences in.
Only a month since launch and already the product has audiences talking, testing out new flavour combinations and recipes and sharing their 'rebel stories' on social media.