The awakening of an airport
Client: Auckland International Airport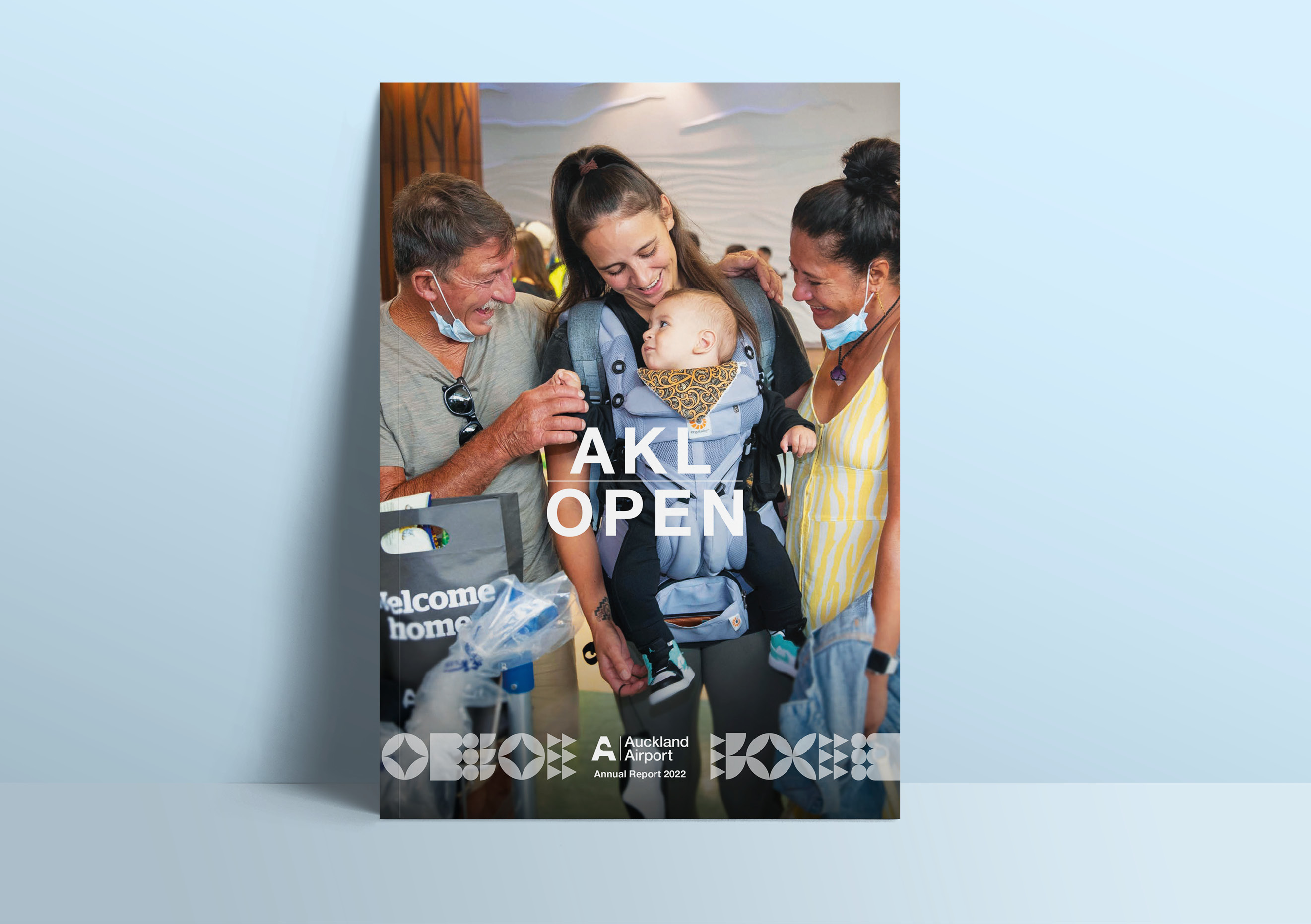 A return to not quite business as usual for Auckland Airport.
The Brief
After three years of hugely restricted air travel, suddenly the floodgates open. For Auckland International Airport, it's a lot more than greasing the wheels of aviation logistics though. It also reawakens the slumbering infrastructure imperatives that were mothballed when the pandemic froze travel. And of course, it's not necessarily a direct return to the previous strategy. Covid changed things.
The 2022 report needed to celebrate the reopening, re-paint the position of the airport in the New Zealand economy, outline the timed resumption of significant capital works, introduce the aspirations of a new CEO, and continue the upgraded reporting of environmental, social and governance factors.
The Solution
For the first time in three years we could bring a welcome sense of optimism to the table. A strong sense of the human impacts of open skies was brought to the fore, and the emotion of renewed human connection laid bare. More vibrant colours and moment-capturing imagery ensures a positive sense of the future. And the promise of a significantly improved travel experience is also outlined in the opening pages.
After the opening salvo and the core story relayed succinctly by the Chair and CEO, the remainder of the report provides the supporting evidence, built on the constant premise of creating value for all the Airport's stakeholders.
And those stakeholders now increasingly include their people, the local community, iwi interests and the natural environment. So the report now delves much more richly into environment and social nurture, taking complex ESG reporting and distilling it down to accessible chunks and digestible diagrams.
A clean, accessible layout with a careful balance of energy, imagery, substance and white space consciously help the report's accessibility to their wide range of stakeholders, while the report's structure helps those various stakeholders find the parts of the report that are of most interest to them.
The Results
As the impacts of the pandemic recede, the new CEO's strategic plan unfolds, and the material changes to roads, parking, retail and infrastructure take shape, there will be an unavoidable sense of progress and energy around Auckland Airport. This report sets the scene for all that to materialise in the coming years.