Take a client's raw idea to international success
Client: 1Above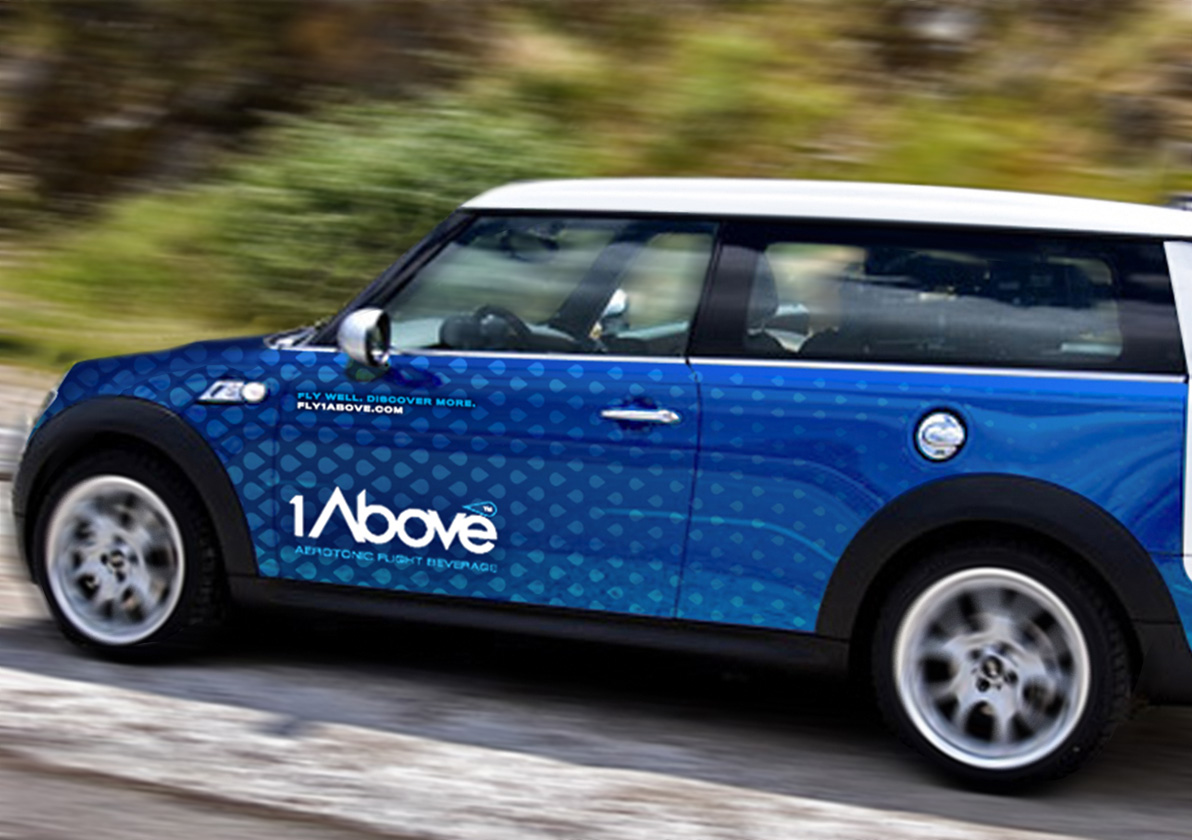 1Above is a single-mindedly focused flight drink that helps you take control of your health when you fly and arrive ready to get the most out of your journey.We have been involved since inception including naming, brand story, brand identity, packaging, retail kiosk, staff uniforms, vehicle livery and marketing collateral.
Two years after launch, 1Above is growing rapidly and with significant venture fund investment is now poised to enter game-changer times, with distribution about to commence in UK and USA airports.
The Brief
One man with a big idea enters Insight's boardroom in 2006 and outlines his plan to conquer the world with his beverage that will help save lives and ensure people arrive healthy and ready to make the most out of their journey. He knew there had to be a way to lessen the risk of deep vein thrombosis and set about to create a drink to specifically target hydration, circulation and jet lag through proven science.

Our task was to co-create this product with him, through naming, branding, packaging and marketing collateral.
The Solution
While the product took three years to come to market, the core brand elements were created within three months. We developed a short list of four potential brand positions with associated names and outline brand stories. 1Above was selected, representing the notion of being a smarter way to fly for the well-travelled, while also nodding to some of the science behind the functionality of the product. The logo, colour palette and brand proposition gained clarity as our next step, from which we turned our attention to the pack design.

A core part of the visual language we developed had aviation connotations: the rich blue colour key and a water droplet shape that channelled an aerofoil wing shape. This became the signature shape for the brand and emerged from a broad bottle shape exploration as the most distinctive and brand-aligned opportunity. We brought Jamie McLellan to the party to assist with the bottle design. Jamie had established a strong product and furniture design pedigree in London and had recently returned to New Zealand.

Writing the detailed brand story was quite a challenge. A complex product in a completely new product category that needed some explaining to give it the credibility it absolutely deserved – all crunched down into accessible bite-sized pieces.

We now had a brand ready for launch. And then came the funding rounds which delayed full production and launch for another two years.
The Results
1Above has proved itself in the market after its initial launch through its dedicated kiosk at Auckland International Airport. The testimonials from amazed travellers are staggering. The product has had two line extensions, with the imminent launch of two more. It is available in New Zealand and Australian airports and is about to be launched at Gatwick and, later in the year, throughout the East Coast airports in the USA. Sales have rocketed, growing 1773% in its first year (from a very low base), with subsequent growth of almost 50% per annum. With the UK and USA distribution channels about to open, growth is set for sales to be in the tens of millions of dollars.