Delivering more
Client: NZ Post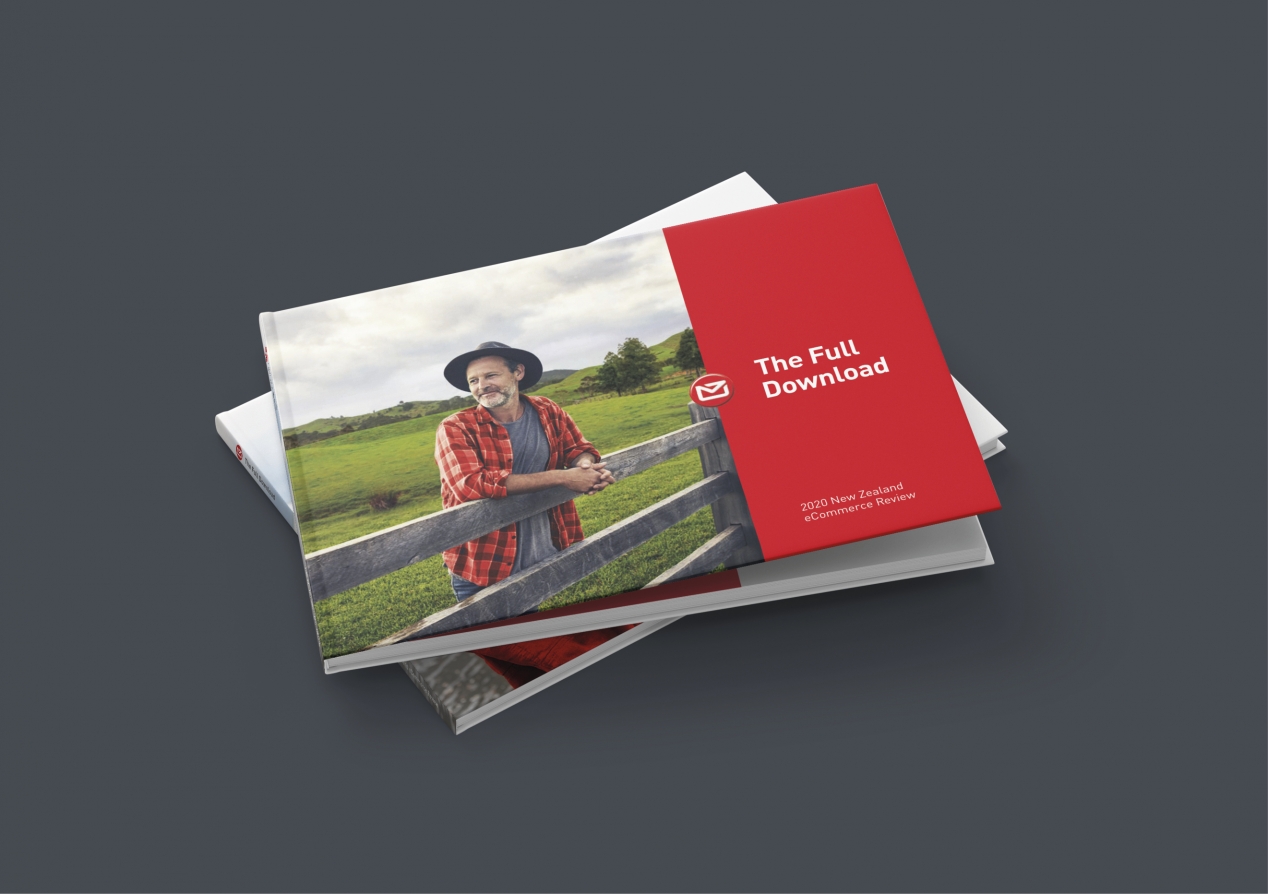 NZ Post delivers more on-line shopping parcels than any other courier company in NZ, and are the experts in this space.
Following up from their second eCommerce report that we delivered in 2019, the third report - The Full Download 2020 - builds on the previous year's success and learnings.
The Brief
In 2019, we stepped up NZ Post's The Full Download report, transforming it from a data-rich report to the essential guide on what's happening with online shopping in NZ. In 2020, the challenge was to go even further in positioning NZ Post as the best partner for online shopping.
The Solution
Our key recommendation for the 2020 edition focused on demonstrating expertise. Data is great but how do retailers use it to advance their business? Our focus was on wrapping practical expert advice and tools around the data - things retailers could use to advance their business.
The client provided us with the data and a summary of the key trends. Working with specialist copywriter, Chris Howden, we looked to develop each of these into rich stories that provided real insight into what shoppers are thinking and doing.
We supported these with in-depth 'expert' interviews with Massey University, NZTE and with Shopify. These focused on very specific topics of interest to retailers and had a forward looking approach that retailers can apply. A retailer survey, commissioned specifically for The Full Download, helped ensure that what we wrote about was aligned with the things retailers were most concerned about. Two case studies also provided retailers with real-world learning examples of doing things well.
The design built on last year rather than reinventing. This was important to ensure we embedded the document into retailers' minds as the definitive annual 'go-to' guide of everything that matters in online shopping. Imagery was updated to speak more to retailers and a series of navigational elements were added to clearly signpost data from expert opinion.
Like last year, the Full Download was developed for online. But unlike last year, the focus this time was on downloading the printed document rather than replicating the full report. This required site visitors to provide details to download the report, helping NZ Post build a database for regular communications and sales leads.
Dominating the home page of the website is a continuous animation which heroes the key data story of online shopping in 2019 in an easy-to-engage way while reinforcing the key role NZ Post plays in the online shopping experience. A summary video, shot at NZ Post's Operation Centre provides another way to get the high level story and to connect NZ Post to it. These elements became a key aspect of the promotional campaign.
NZ Post also asked us to help with their 'go to market' promotional campaign which led us to develop a series of digital, social and digital marketing promotional executions. These brought through messaging and visuals from the report, allowing a campaign that felt highly integrated to be delivered.
The Results
Writing, designing and producing a 100+ page book, a website, a video, an animation, and a 'go to market' campaign that topped last year's efforts was a big ask, especially with the disruption of Covid in the middle of it. But like our clients, we delivered. NZ Post is positioned as an expert in this space but this time with a focus on using their expertise to help retailers grow their business. And online businesses – big and small – agree, praising NZ Post for delivering such a valuable business tool.
The events of 2020 so far have seen big developments in online shopping and we look forward to telling this story as part of a regular communication series and in next year's The Full Download.