To be heard, go <br>where they'll listen
Client: NZ Drug Foundation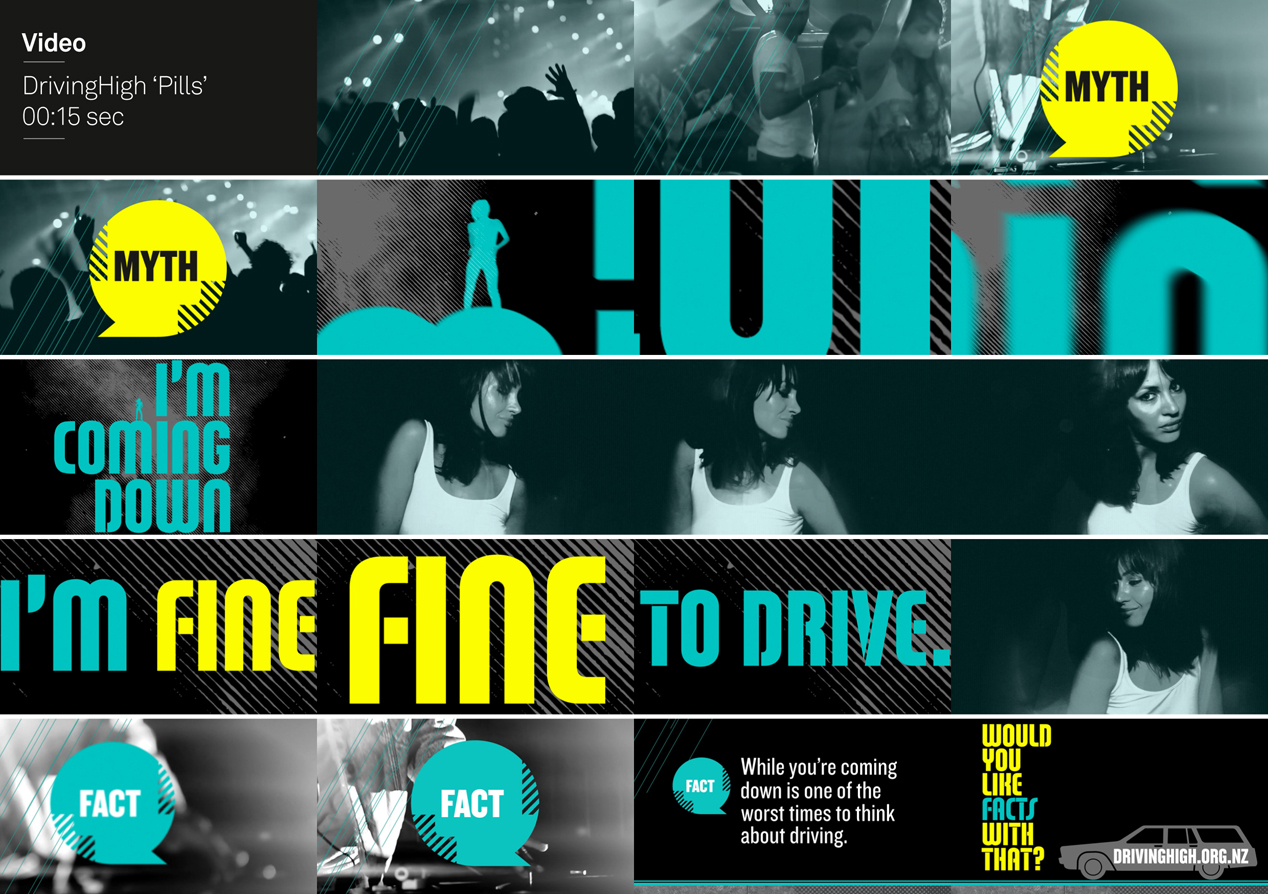 Would you like facts with that? The NZ Drug Foundation asked us to create an awareness campaign to address misconceptions about driving high.
When your audiences - 'pot heads & pill poppers' - think they drive better when they are wasted, traditional campaigns in mainstream media weren't going to cut it. Our approach was to give each audience myth-busting facts, styled to their lifestyle, language and environment.
The Brief

There has been a lot of public information about the effect and consequences of driving drunk but little on driving while under the influence of drugs. Accordingly, many myths have emerged such as drugs don't affect your ability to drive or that in fact you drive better. The NZ Drug Foundation wanted to address these misconceptions with a hard-hitting multi-media campaign that raised awareness and understanding.
The Solution
Working with the NZ Drug Foundation we divided the target audience into two groups - pot smokers and pill takers. A visual language was developed for each group around the central premise of "Would you like facts with that?" to provide scientific facts. While the pot campaign had a laid-back, reggae vibe, the pill campaign was styled on the high energy of dance parties.

To get in front of each audience, the campaign was designed to be taken to the streets, bars, clubs, festivals, Facebook and the web. This involved a combination of street and club posters and pamphlets, bar and club toilet mirror decals, bar pass out stamps, web banner ads on music promo sites and a dedicated Facebook page. Two videos, which went viral, were designed to be played on the big screens at bars and festivals.
The Results
The campaign had good awareness, reach and cut-through and generated healthy discussion amongst the target audience. The NZ Drug Foundation is delighted with the results and see this as an excellent first step in changing attitudes. So much so, that plans are currently underway to develop the idea further.

See also: NZ Drug Foundation website and Matters of Substance magazine