Performing exquisitely
Client: New Zealand Symphony Orchestra
FINALIST: 2015 BEST AWARDS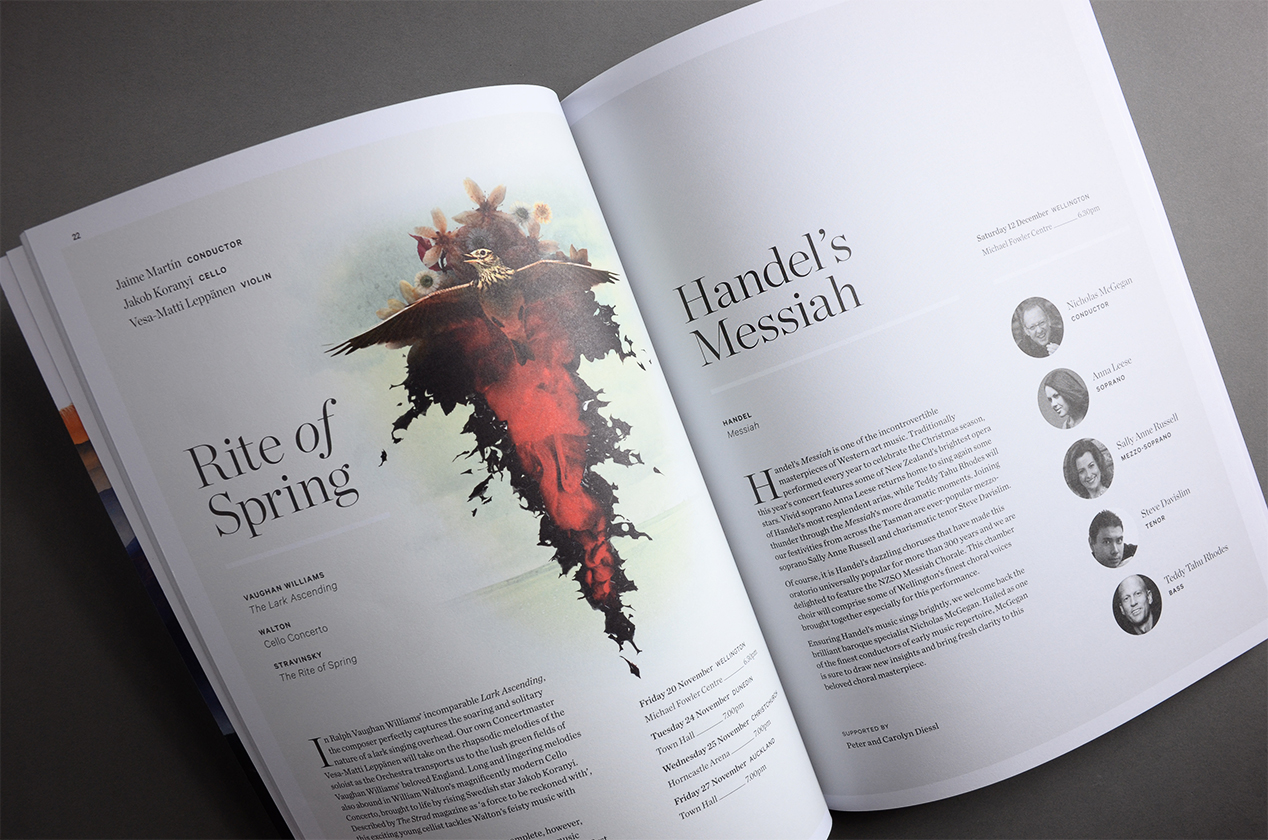 The New Zealand Symphony Orchestra had an ambitious concert programme for 2015, as well as ambitious sales targets.
The season brochure and advertising created a strong visual voice in the arts landscape and helped the season really deliver the business, with audience numbers 30% up on the year before. Read the case study for the full story:
The Brief
The NZSO, one of the world's oldest national orchestras, asked us to develop a conceptual theme and approach for the promotion of Season 2015. A year of impressive highlights, with an ambitious concert programme, Season 2015 features the trifecta of illustrious soloists, conductors and symphonic pieces from around the world. There was also a desire for the creative to bring 'more of the artistry' into a powerful marketing programme that would result in, as the client put it, 'more bums on seats.'
Creative Thinking and Solution
A conceptual theme 'experience3' was developed, 'more emotion, exhilaration, excellence' – designed to capture the eventful year of concerts and visiting artists, while also representing the physical feeling of experiencing an NZSO performance. Two illustration styles were developed to bring the theme to life:
Strong, illustrative portraits, featuring the headline soloists considered to be the top calibre of performers worldwide, represent 'excellence'. These stylised ink illustrations create marketable images of each artist, and a unique, distinctive visual for the NZSO. Illustrating the feature soloists, rather than photographing them, created consistency across the season as well as beautiful, impactful portraits – used to full effect on promotional material.
Illustrations designed in a multi-layered graphic style, reflect 'emotion and exhilaration' by capturing elements of the musical programme in the imagery. Themes and stories within each musical pieces are illustrated, and overlaid, with both subtle and more direct references.
Using these two powerful illustrative approaches, combined with expressive typography and colour, allowed a considered, elegant and sophisticated image to be created for each concert. Applied collectively to posters, press advertising, online, EDM and concert programme material, these formed a beautifully expressive campaign across the entire season.
The Results
Internal and external audiences have responded well to the material. Internally the NZSO are proud of the work, feeling it gives the NZSO, and Season 2015, a strong visual voice in the arts landscape. Externally the material has helped the season really deliver the business, with audience numbers 30% up on the year before including attracting new audiences who experienced NZSO for the first time.