A tool for all reasons
Client: Insight Creative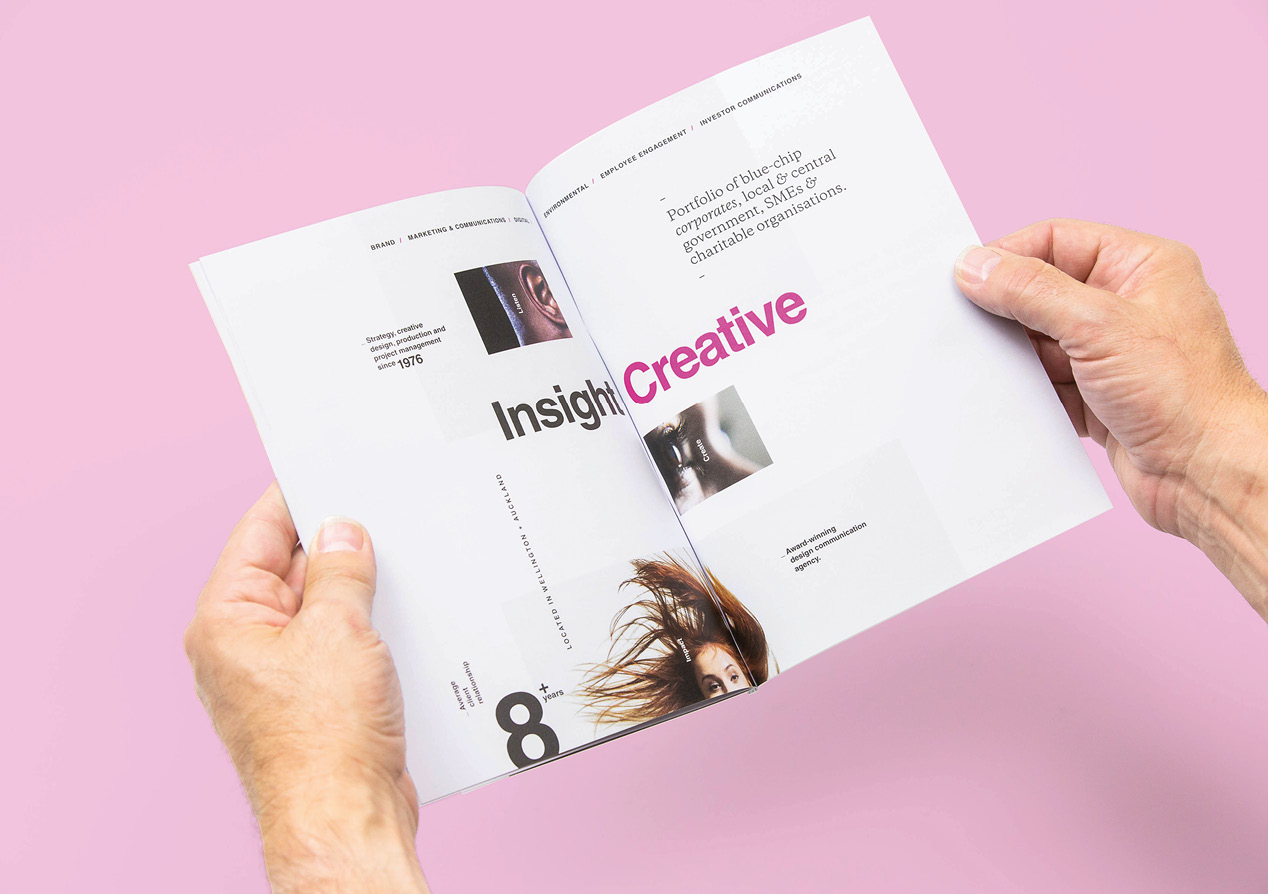 A simples sales brochure is not always all that simple.
We needed to capture both hearts and minds, while differentiating our story from our competitors. This three-part brochure sets out to mimic the sales process.
The Brief
We're constantly working to grow the business. The sales 'talkie talkie' necessitates real proof, and that was our challenge here. We wanted a physical thing that demonstrates our ability to communicate effectively and to tell strong clear stories.
And like many of our client briefs we wanted that ultimate utility piecethat could be everything all at once – a door opener, a talk-to sales prop, a post-pitch reminder and a powerful deal closer – delivering strong cut-through and engagement every time. Easy.
The Solution
The big idea was to mimic the sales process. Start by appealing to the heart, drawing audiences in to find out more. Then appeal to the mind with logic and structure. Finish boldly with compelling proof, creating a desire to act in order to achieve similar results.
The cover is subtle in approach, confining the hard sell to the person handing it over or the accompanying cover letter. The single question creates curiosity, inviting audiences to find an answer. But it's the original three-part structure – document in a document in a document – that delivers the real cut-through by compelling audiences to see how it works.
The visible rivet binding was a conscious decision, answering the cover's great design question with a functional solution.
The opening sales story answers the driving client questions What makes you unique?and Why should I work with you?Bold and eclectic design delivers engagement, drives readers to follow the story and demonstrates an ability to produce multiple design aesthetics.
The middle document uses a more minimal approach, illustrating the structure and discipline in how we work. It's ordered and logical, allowing audiences to be the same in their decision process.
We finish strongly with tangible proof, using a variety of client examples to demonstrate the breadth and depth of the results we have delivered – and, by extension, the results our prospect can expect.
Like all sales presentations, we close with a strong call to action.
The Results
The document is a real talking piece, enticing audiences to pick it up. We see them flicking through it, unconsciously going through the sales process. It's given our sales team more confidence and cohesion in telling our story. The year has started strongly with six new clients in the first three months. You can't help but feel that our 'MacGyver' document is the catalyst for this.