Flying high
25 Oct 2018 by Mike Tisdall
Taking a deep dive into understanding our client's businesses is always one of the most fascinating part of our jobs.
Last Thursday Gabe and Holly were lucky enough to spend the morning with our lovely clients at Airways. For those of you who don't know a lot about Airways, they provide our air navigation service and are responsible for monitoring and controlling the air traffic to ensure all aircrafts are travelling safely between airports in New Zealand domestic and Oceanic regions. Their air traffic controllers are constantly in contact with the pilots arriving and departing New Zealand.
After a Work In Progress meeting they headed over to the operations centre where their enculturation started.
As Holly tells it, they were given a comprehensive overview: "Did you know the airspace they control covers 26 million square kilometres including the Pacific and Tasman oceans which extends from the South Pole to 5 degrees south of the equator?!"
They learnt about the ins and outs of air traffic control, flight path management, the different stages of flight and procedures that follow each. They were tutored in the different flight maps and charts and got a solid understanding of what's involved in air traffic control training.
"These were all demonstrated to us when we visited the operations centre. No work station can be left unattended and a full handover must be given before a team member can be dismissed."
Here's one person from the team monitoring the aircrafts flying into Auckland.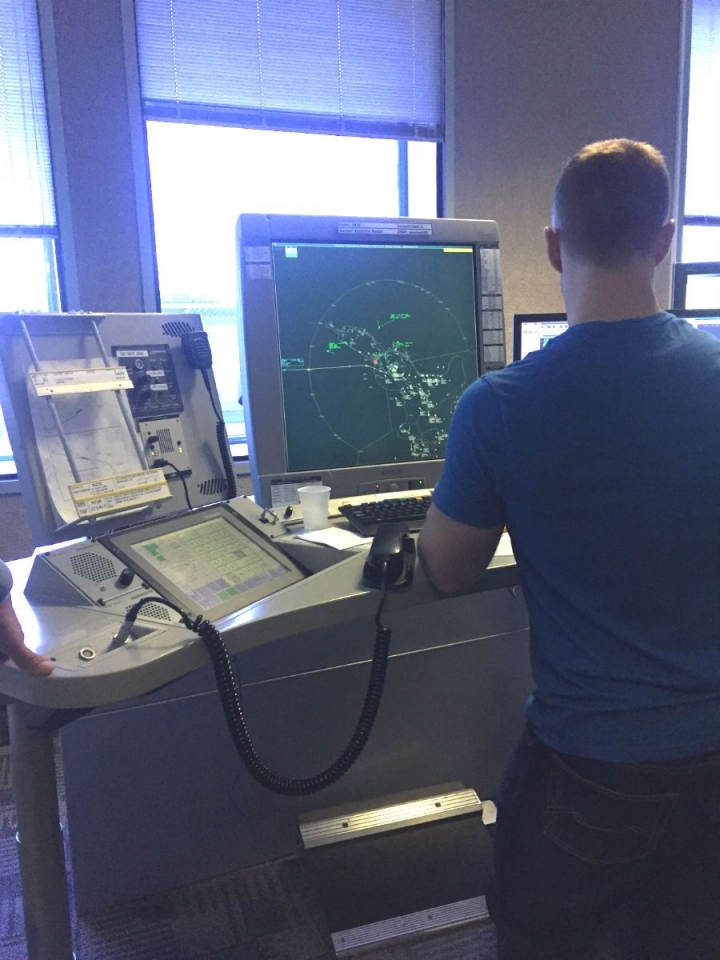 Holly continues: "From there we ventured up into the control tower where we had a full view of the runway and where three air traffic controllers were stationed. Each controller was managing a different stage of flight and were busy chatting with the pilots. Typically the training to be an air traffic controller takes 12 months, but with my 2 hours of training, the team felt I was qualified to at least put on the headphones and listen to the conversations!"